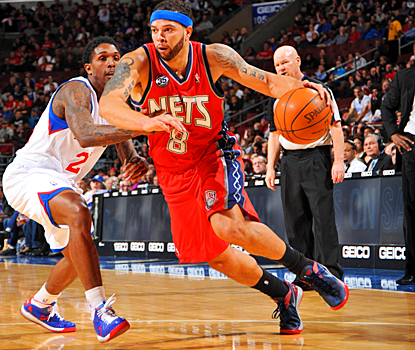 Reports of  Deron Williams' game rotting away in the North Jersey swamplands have been greatly exaggerated. Williams poured in 34 points to go along with 11 assists as the New Jersey Nets came out with an aggressive game plan and stuck to it as they stunned the Atlantic Division leading 76′ers 97-90 in overtime at the Wells Fargo Center.
Lou Williams led the Sixers with 17 points.
Tonight was the classic case of allowing a lesser team steal a win by allowing  them to hang around. The visiting Nets jumped out to an 11-4 lead in the opening minutes – keeping things close throughout and striking at opportune moments. Deron Williams who has played most of the season without stud center Brook Lopez has taken on the scoring role for the 6-13 Nets. Amid trade talks, the team's move to Brooklyn next season and the possibility of playing elsewhere, Williams has remained professional throughout the Nets saga.
The Sixers for possibly the first time all season really allowed a lesser opponent to stay in the game. One reason was because of the Nets ability to outrebound the Sixers 45-37. Kris Humphries who played 46 minutes pulled down 19 rebounds to go with 13 points. The visitors knocked down 12 three-pointers to only five for the Sixers. The Nets also got timely contributions from Anthony Morrow (16 pts.) Jordan Farmar (12 pts.) and center Mehmet Okur (11 pts.). But when a big shot needed to be taken  either towards the end of regulation or to put the game away in overtime,  Williams was the answer.
The Sixers looked like they were playing on heavy legs as they shot 44 percent from the floor and only 5 for 14 from beyond the arc. Lou Williams led the Sixers who placed five players in double figures with 17 points. The Sixers got poor production from the starters who only outscored the bench by 10 points. Jrue Holiday (14 points 7 assts. 3 stls.) drew the assignment of guarding Williams but once Williams went to his post up game the assignment went to Andre Iguodala (12 pts. 6 rebs. 4 assts.) who was burned by Williams at the ends of regulation and overtime. Jodie Meeks (6 pts. 8 rebs.) struggled from the floor, Elton Brand fouled out with 16 points and 4 rebounds while Thaddeus Young added 10.