In the Part I of our discussion, Fritz Pollard III gave me his position on Tim Tebow, Robert Griffin III and some insight into how the decisions made in the media can impede the progress of Black youth in America.
Mr. Pollard and I conclude our conversation but not before he adds more of his unique insight into Mike Singletary and college athletics – he even gives us his Super Bowl prediction.
RG: Going back to Tebow, there has been a racial backdrop to the story of course – in my opinion his style of play is now being praised by the media as opposed to when a Black quarterbacks were critiqued for same style of play. It's been discussed many times that players like Randall Cunningham or Kordell Stewart were anything but a quarterback.
FP III: It's very interesting  – I really don't look at his style of play.  He's a very good runner, so why didn't they say he could be a running back as for many times they would take minority quarterbacks out of college and they would say, "Well you need to be a running back or you need to be a receiver." What he is is a running back because he cannot throw a football, and that was really evident when they played New England. He's not a drop back passer, and I don't think he'll ever be a drop back passer because he just doesn't throw the ball that well. He's a tremendous runner, and he probably throws on the run better or than most quarterbacks that I've seen. He throws on the run about as good as (Ben) Roethlisberger but he's still not in Roethlisberger's league.
You just need an equal playing field, but it also depends on where you're playing too. You know, you're playing in Denver Colorado so what do you expect, that's what you get in Colorado it's predominantly white,  just like if there was a team in Utah it would be predominantly white. And from their upbringing, they've never been around Blacks, they don't know how to talk to Blacks or they've been taught another way that Blacks are lower than them, and this goes back to the Indians where they did this stuff. So they have a lot of bigotry that they were taught when they were growing up and they don't know until they finally get to see some (minorities) on their team. But you can see that they don't associate with them because of the way they sit on the benches, they're still separated. It's just one of those things that's still going on.
RG: If your grandfather could pick a quarterback or player that most resembles him who would it be?
FP III: I would probably say Cam Newton would remind him a lot of himself. They used to call my grandfather "The Black Torpedo" because he ran so low to the ground and he was so fast and he threw the ball. And throwing those balls back in his day was something because the ball was more like a rugby ball. And I could look at pictures from my grandfather holding me as a baby and see how big his hands were. That's why he was able to throw that ball. He was one of the premier quarterbacks that started throwing the ball. And people copied from him, and he didn't mind, he helped guys that went to college and taught them about throwing the ball down field.
Some whites grew up around minorities, and weren't from the other side of the tracks, there were some whites that lived on our side of the tracks too. And they grew up playing ball and everything else with Blacks and they spoke like them and everything but they were accepted later just because they were white. And they were accepted because they had these skill sets from playing with Blacks when they grew up, it's just a totally different scheme on how people get there. But if you look at their upbringing, it was the same as Blacks, cause they were considered lower class people.
RG: Did your grandfather ever have contact with players from his day – say Sammy Baugh?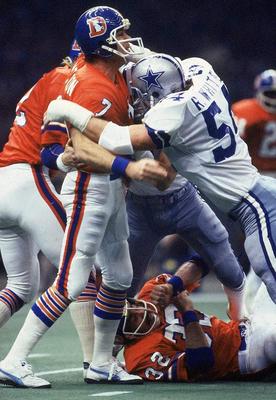 FP III: I don't ever recall him mentioning Sammy Baugh. Of the modern players he mentioned Joe Namath. But of the other players that he was most impressed with was Randy White (formerly of the Dallas Cowboys) . My grandfather called me and wanted me to come up because he had someone who he wanted me to meet. So I drove up to New York and once I walked in the door, I knew who it was – it was Randy White. And we had a great conversation talking football all day long and he was such a nice man.
RG: I was watching the marvelous game Vernon Davis had against the Saints, and as he's crying in Jim Harbaugh's arms I'm hoping that in his heart he's thanking Mike Singletary.
FP III: That whole team should be thanking Mike Singletary, especially that defense. Where do you think that defense came from? It came from Mike Singletary.
RG: Well, you know the twist has already been put on this to make it seem that Singletary was too hard on these guys. He took Davis off the field two seasons ago and ripped him in the press, it was obvious that no coach before him cared enough to do that. It seemed like a light went off in Davis head. Now the media is making it look like Harbaugh is just what the doctor ordered.
FP III: In my opinion, if he hadn't done that he (Davis) probably wouldn't be in the league right now. He was acting like a kid and you can't do that as a professional athlete – carry yourself to a higher standard and set the example, and he wasn't doing that. No matter how much talent you have, he was going down the wrong path – that's why Singletary benched him.
RG: Singletary brought accountability to that team, which is something that you're taught as a child and somewhere along the way with Davis (and other athletes) that got lost.
FP III: He was being told what he was too much and he was probably passed along because of his talents and he probably got away with a lot. And I'm just not talking about minorities – many athletes get away with a lot in school and what not because they are star athletes. I look at Randy White when he was at Maryland, he could've been one of the great talents at middle linebacker when they drafted him. Randy White is still considered a freshman today at the University of Maryland because he couldn't pass any courses. And so he couldn't be a linebacker because he couldn't remember the plays – so how could a middle linebacker call the play? Dexter Manley was another example.
RG: Who do you like to win the Super Bowl?
FP III: I like New England. I believe that they're really hungry.
RG: As always Mr. Pollard it's a pleasure speaking with you.
FP III: Thank you Ron, keep up the good work.