(Basket.com)
Sorry Miz, but that's classic Roy Marble right dere!
As Okori Wadsworth took us down memory lane by giving us the best players from some of the best teams in college basketball history, it gave me an idea, why not look back at some of the great teams that never won a championship but kept us thoroughly entertained. I've decided to go through my memory bank as well as a few lists and continue this walk through time. All teams featured will have played before the turn of the century.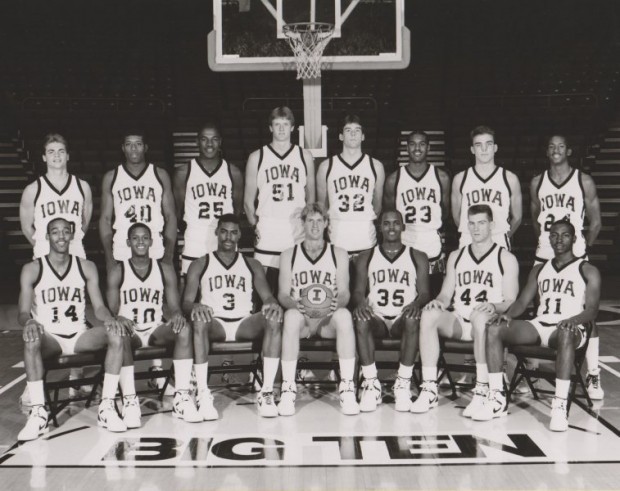 The 1986-87 Iowa Hawkeyes are a team that I remember fondly for two reasons; first, their battles within the Big Ten Conference against Michigan, Indiana, Illinois and Michigan State and second for a smooth sophomore shooting guard named Roy Marble. Before Harold Miner, Jerry Stackhouse and others who were anointed as the next version of Michael Jordan, there was Marble. Marble's numbers would read as such through his career at Iowa: 12.5, 14.9, 15.4 and 20.5 leaving as the school's all-time scoring leader.
The floor general of this high-flying offense was a baby-faced guard named B.J. Armstrong, who along with Marble formed one of the nation's best back courts for three seasons. In the 86-87 season when the three-point line was introduced to college basketball Armstrong shot an eye-popping 51 percent from beyond and 44 percent for his career. Armstrong was a more of a scorer at Iowa in contrast to the table-setting point guard we later saw in the NBA. Armstrong's numbers ran along those of Marble's, between his sophomore and senior seasons B.J.'s numbers jumped from 12.4 ppg. to 18.6 ppg.
The Hawkeyes front court was solid with the likes of  Kevin Gamble, Ed Horton and Brad Lohaus. Gamble was a slasher that averaged 12 points in his final season at Iowa, shooting 55 percent from the floor. His senior mate Lohaus averaged 11 points and nearly 8 rebounds and displayed an outside touch that allowed him to shoot 35 percent from three-point range. Ed Horton would improve from scoring a modest 7 .8 ppg. to over 18 ppg. as a senior.
The 1986-87 Hawkeyes season would be the first under Dr. Tom Davis, former coach George Raveling had accepted the head coaching  position at the University of Southern California. The Hawkeyes were coming back from an early exit in the NCAA Tournament suffering a first round defeat and finishing 6th in the conference.
The Hawkeyes would run out to an 18-0 start, averaging 87 ppg. and earning a #1 ranking along the way. This electrifying group would finish the regular season 27-4 (3rd in Big Ten). Tom Davis' group would make it to the Elite Eight of the NCAA Tournament before losing to UNLV 84-81.