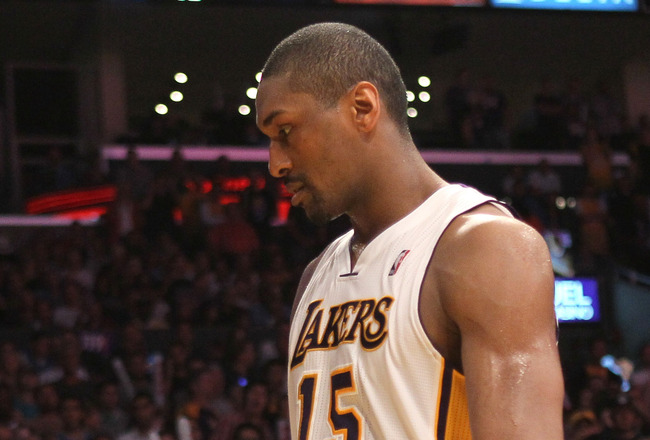 As expected, the NBA came down on the Los Angeles Lakers forward Metta World Peace levying the forward with a seven-game suspension for throwing an elbow that left Oklahoma City Thunder forward James Harden with a concussion in their contest on Sunday.
Metta issued his apology after Sunday's game and later on Twitter
Since that fateful night in Detroit nearly eight years ago the former Ron Artest has been the car wreck that NBA fans and media have waited to see happen. Where Dennis Rodman would meltdown, World Peace explodes and that, in spite its risks is what peaks people's interest.
The fender benders that would occur in Sacramento and Houston pale in comparison to Sunday's pileup. And once the damage was done it was time to assess the wreckage – giving the "experts" the platform to release their cliche-filled rants against World Peace along with their own estimate of what his cost should be.
After the league dropped word of the seven game suspension, there was some backlash that the league was too lenient in its sentence. It's even been suggested that the Lakers take the matter further and pick up where the NBA suspension leaves off.