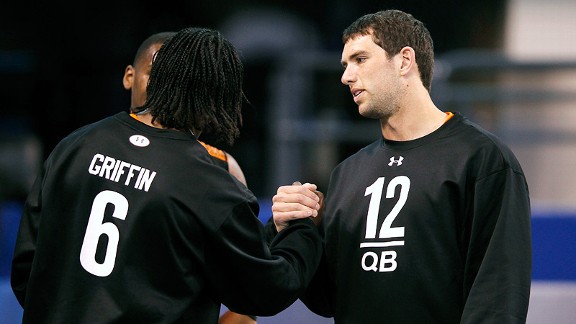 The Indianapolis Colts told us what we had known for months when they announced that they were going to make Stanford quarterback Andrew Luck the first pick in tomorrow night's NFL Draft. Baylor's Robert Griffin III will most assuredly be selected second overall by the Washington Redskins.
It's always interesting to see how the first round of the NFL Draft plays out. Who will shock us by trading up? (walterfootball.com)
The Philadelphia Eagles are working out a sign and trade that will send cornerback Asante Samuel to the Atlanta Falcons for a late-round pick. (nfl.com)
The Utah Jazz secure the NBA's final playoff spot with a victory over the Phoenix Suns. Is Nash done in Phoenix? (bellinghamherald.com)
Chaos in the NBPA points finger at Derek Fisher as the source of its problems. (nytimes.com)
The Philadelphia Phillies first baseman Ryan Howard's achillies is improving – looking to resume baseball activies soon. (courierpostonline.com)
Happy 80th Birthday to the great Meadowlark Lemon of the Harlem Globetrotters!