(Al Bello/Getty)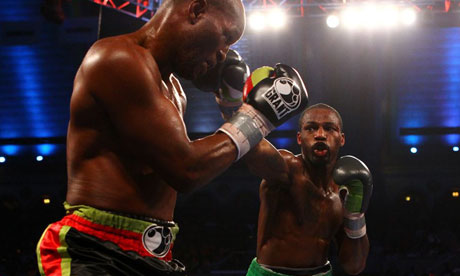 The rematch between light heavyweight champion Bernard Hopkins and Chad Dawson lacked the fireworks of their October 15, 2011 bout. In last night's rematch, Dawson survived and ugly cut from an accidental butt from Hopkins, forging ahead to win a majority decsion in Atlantic City, New Jersey.
On the undercard, former Michigan State football player Seth "Mayhem" Mitchell survived an early onslaught from Chazz Witherspoon to regroup and score a third round TKO.
(Ed Mulholland/US Presswire)
Chad Dawson didn't allow the headbutting or the cut that resulted from it to deter him from outpointing Bernard Hopkins in their rematch last night. Dawson kept his composure throughout the bout turning up the pressure on Hopkins with a leading left hand that allowed him to put the fight away in the middle rounds. Hopkins got off to his customary slow start but was able to land some good shots on Dawson but neither fighter seemed hurt or in danger at any point of the bout. Dawson was definitely the busier fighter on this night throwing more punches and landing the majority of power shots.
In the postfight interview Dawson let the emotions that he contained during the bout to overflow as he called Hopkins, "a dirty fighter" and that the butts from Hopkins were intentional and even complained of a headache. Dawson also chastized the referee for not issuing any warning to Hopkins. In defeat the 47-year old Hopkins never conceeded that he lost the fight or what his decision will be on his future. I'm guessing that if Hopkins can fight three more high level fights that steppin into the ring at age 50 isn't out of the question.
Seth Mitchell (25-0-1, 19 KOs) withstood a pounding in the first round from challenger Chazz Witherspoon to drop his opponent in the second round before landing two huge right hands that caused the referee to step in, stopping the bout in round 3.