(Mark J. Terrill/AP)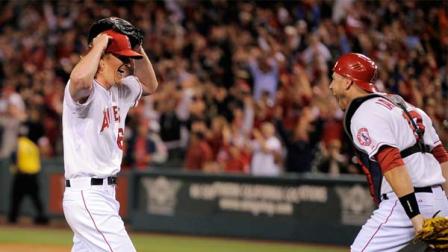 For seven seasons, Los Angeles Angels of Anaheim  pitcher Jered Weaver has been one of baseball's power pitchers right up there with C.C. Sabathia and Roy Halladay. Last night Weaver's power was on full display as he struck out nine and walk a lone batter in throwing his first career no-hitter in a 9-0 victory against the Minnesota Twins. Weaver moves on to 4-0 with a .161 ERA and 45 strikeouts.
(John Bazemore/AP)
Chipper Jones has been a thorn in the side of the Philadelphia Phillies for all of his 19 seasons in the major leagues. Jones who announced in spring training that this would be his last season gave the Phillies another reason they would be one of the happiest teams to see him go. Jones hit a two-run  homer in the bottom of the 11th to give the Atlanta Braves a 15-13 victory, breaking the Braves 8-game losing streak to the Phillies.
(Haraz N. Ghanbari/AP)
Most of the highlights surrounding Washington Nationals rookie Bryce Harper have shown the catcher turned outfielder's cannon arm on display. So far this season we haven't seen much from Harper at the plate but last night was a step in the right direction. Harper had three hits, including one of his two doubles in the ninth inning to set the stage for Ian Desmond's walk off home run as Nationals rallied to defeat the Arizona Diamondbacks 5-4.
The Happenings:
(Just added) Terrell Suggs tears Achilles tendon. Could be out for '12 (Baltimore Sun).
Strokes are on the rise – don't become a statistic (Black America Web).
Deion Sanders stays on the defensive in 'Good Morning America' interview (Black America Web).
Black Athlete Sports Network's Tony McLean discusses HBCUs impact in the Negro Leagues (BASN).
NFL announces OTA minicamp dates for all 32 teams (NFL.com).
Nebraska running backs coach shouts down gay rights (Kansas City Star).
A look back at the Birmingham Campaign of 1963 and Bull Connor's use of police brutality against nonviolent Black protesters. (Real Clear History)
Here is a philanthropy program designed to help athletes and celebrities in improving opportunities for Black males (Black Gives Back).
Take a closer look at the Gordon Parks foundation (The Gordon Parks Foundation).
Black teen repeatedly tasered while in jail cell (Philly.com).
Vibe and Vegas speak with Hugh Lawson about his concern and efforts to reach out to men of color (Vibe and Vegas).