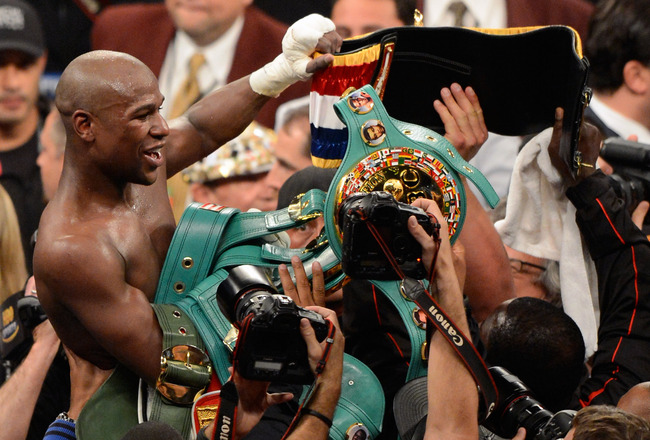 Saturday night, Floyd Mayweather used his power and speed to gain an early advantage bruising Miguel Cotto before the champion rallied in the middle and late rounds to bloody Mayweather- setting the stage for a  great finish.  Mayweather would capture the WBC Super Light Middleweight title by a unanimous decision to go along with any other title that he weighs in under.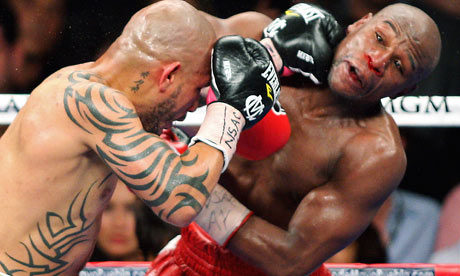 It's happened to all the greats: Ken Norton shut up Muhammad Ali – literally, Mike Tyson gets dropped, Michael Jordan gets crossed over and Floyd Mayweather tastes his own blood.
Despite suffering a bloodied nose and mouth, Mayweather continued to slug away as Miguel Cotto - already bruised was more than willing to oblige. Cotto seemed to get going in the middle rounds catching the champion and landing power shots that prior opponents could not. Cotto would keep the pressure on into the later rounds, building an anticipated climax to a great bout. I don't think too many fans in attendance or the millions who shelled out $60 walked away cheated in what was probably the best showing by Floyd to date (although I rate the beating over Arturo Gatti up there on my list).
Last September after Floyd Mayweather KO'd Victor Ortiz, he and Larry Merchant exchanged heated words in the postfight interview. Since then the two had no spoken since that night. As the fight drew closer it was a question if Mayweather would grant Merchant an interview win or lose. Mayweather said that he would not interview with Merchant but as the hours ticked down Mayweather offered an apology to Merchant who accepted and the two made peace publicly Saturday night. Funny how Merchant had no problem telling the world that Floyd apologized and he accepted or better yet throwing a low jab with the " from living the high life, to a lonely cell" comment.
In other news:
Violence of the NFL threatens its existence (Sporting News).
Tim Tebow to see time on special teams (NFL.com).
Hurry! Hurry! Hurry! Get your 2012 NFL Depth Charts right here (Our Lads).
Attorneys for Jordan Miles win 3 pre-trial arguments (Pittsburgh Post Gazette).
26 Dead, 100 missing in Afghan flood (CNN).
Kurt Warner responds to critics about his comments on his sons and football (Networked Blogs).
NFL Players And Post Career Safety Measures: Something Has To Change (TSFJ).
Check out the Negro Leagues Baseball Museum (Mizzo will have an extensive interview with NLBM president, Bob Kendrick this week ) website (NLBM).
Cole Hamels: "I hit Harper on purpose." (Washington Post).
Read up on and support BLOOM (Black Gives Back).
William C. Rhoden writes on Eulace Peacock , the forgotten rival of Jesse Owens (NY Times).