The Philadelphia Sixers and Boston Celtics are meeting in the NBA Playoffs for the 19th time (most in NBA history) with the Celtics leading 11-7. The NBA's greatest rivalry is now passed on to a new generation that has yet to experience a feud that goes back to 1953. This is the first playoff meeting of the two teams since 2002 after meeting four times in the 1980′s
Here is my preview and prediction…
Let's take a quick position by position glance at this series, we'll start with the guards.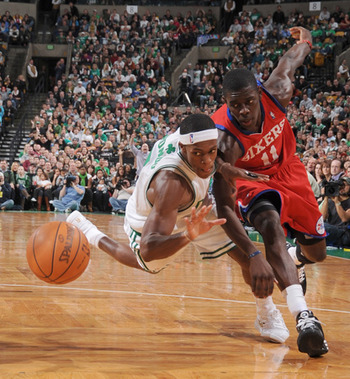 Guards:
Rajon Rondo can kill you without taking a shot and that's what makes him the most dangerous player in this series. Jrue Holiday came up better than expected in the Chicago series, but is still suspect to an erratic night and that's what the Sixers can't afford. Evan Turner needs to be even more aggressive than he was in the first round, Turner has quietly become the emotional leader on this team his fearlessness at both ends should have a trickle down effect on this relatively young team. Avery Bradley starts at the two but as Ray Allen heals, expect him to work his way back into the starting lineup.
Advantage: Celtics
Forwards:
In order for Andre Iguodala to continue his new-found love affair with the Philadelphia fans he must deliver against the Celtics and that means locking up Paul Pierce who like Iggy is battling injuries. If Iguodala allows Pierce to pick his spots, it's going to be a long series. Offensively, Iggy needs to get started early and remain active during lulls in the game. It's safe to say that Elton Brand is fully recovered from the injuries that have plagued him since he arrived in Philadelphia. It is essential for the Sixers to get Brand involved early for him to remain effective throughout. Underrated as a defender, Brand can be counted on for a block or two a game. Brandon Bass was a great pickup for the Celtics but he has to locate his mid-range game, hit the glass and take advantage of the slower, older Brand.
Advantage: Sixers
Centers:
Kevin Garnett has been just what the C's needed at the center position, he was nothing short of great in the clincher scoring 28 points grabbing 14 rebounds and recording 5 blocks. Garnett is prone to throw up a dud of a game and should not be counted on to take the final shot. If the Celtics are to win this series, it's on KG along with Paul Pierce to show up big. Spencer Hawes has battled through the injuries of this shortened season and gave the Sixers a huge boost from the five position in the first round. Not being one that's afraid to mix it up - Hawes won't back down from Garnett and might trade a 'bow or two to let KG know he's in a series.
Advantage: Even
Bench:
Lou Williams flew under the radar this season as he led the Sixers in scoring from the pine, the runner up in this year's sixth man of the year running is as streaky as they come and should provide plenty of sparks as he rises to the moment. Thaddeus Young is the trump card here, Young struggled against Taj Gibson in the last series but should be able to be more himself against the Celtics. If Young breaks out, this series will be short. Ray Allen, hobbled and all is still savvy and will get his either from the floor or at the line. The old lion is still dangerous and shouldn't be provoked. Mickael Pietrus is a designated stopper and is dangerous from beyond the arc if given room. Jodie Meeks should be able to run away from Allen to spot up but he needs a hot start to stay confident in this series. Greg Stiemsma is a space-eater and can get you a bucket or two, but his job is to defend and buy minutes for Garnett, Ryan Hollins is quicker but is unreliable when it comes to scoring the rock. Backup point Kenyon Dooling is a decent defender and can be a threat from the outside. Lavoy Allen got his first taste of playoff basketball and enjoyed it he and Nick Vucevic should be able to have some success against the Celtics reserves.
Advantage: Sixers
Intangibles & Prediction:
This is your classic youth vs. experience series, while Boston has all of the experience and hardware, Philly has the up and coming horses with the young legs to overtake their opponents. The Sixers have to trap the perimeter and not allow Pierce or Allen to get hot at any point. Detail is important here as rebounding and turnovers are essential. If the Sixers get turnovers, it will open up their fast break and the Celtics will not be able to recover. The Sixers took 2 of 3 from the Celtics this season by a total of 45 points.
Prediction: Sixers in Six!