(Photo: @jose3030)
Rajon Rondo continues his assault on the playoff record books as he recorded his ninth career playoff triple-double with scored 18 points, 10 rebounds and 10 assists, tying Wilt Chamberlain and trailing only Jason Kidd, Larry Bird and Magic Johnson. Rondo outscored the 76ers 11-7 after Paul Pierce fouled out with 4:16 remaining, he even outrebounded the Sixers 3-1. As the Boston Celtics would hold off the Philadelphia 76ers, 85-75 in Game 7 of a grueling series.
The Celtics now face the Miami Heat in the Eastern Conference Finals beginning Monday night
(Daily News/Inquirer)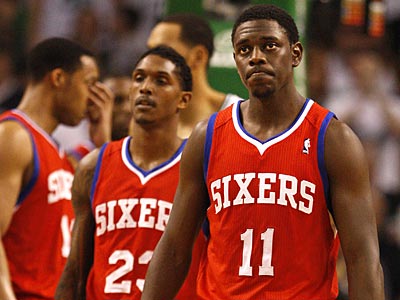 It wasn't supposed to be this way…Hell, they weren't even supposed to make it this far.
The Sixers did what they were supposed to against the wounded Chicago Bulls and verified their ticket in these playoffs with a gritty seven-game series against the Boston Celtics.
But it still burns nevertheless.
No one can say that the visitors didn't show up, the Sixers simply committed too many turnovers and missed too many free throws to win it in the end. The Sixers were led by Elton Brand (15 pts.) Andre Iguodala (18 points) and Jrue Holiday (15 pts., 9 assts. and 5 stls.). The Sixers bench failed to get going in the series as a collective unit. Last night was no different as the Night Shift could only muster 17 points between four reserves.
Credit has to be given to the Celtics defensively keeping the Sixers in check holding the Sixers to 35 percent shooting last night and similar numbers throughout the series. The Celtics matched the Sixers athleticism with defensive intensity shutting down driving lanes like a seven car pileup on I-95.
The Celtics could only gather seven points from their bench put were able to place all five starters in double figures. The most important statistic of the night other than Rondo's line was Ray Allen (11 points) logging 38 minutes on a sore ankle, Allen and Rondo took over the Celtics scoring as the Sixers were unable to take advantage when Paul Pierce (15 points, 9 rebounds) fouled out. Kevin Garnett had 18 points and led all players with 13 rebounds.