(Darren Abate/Associated Press)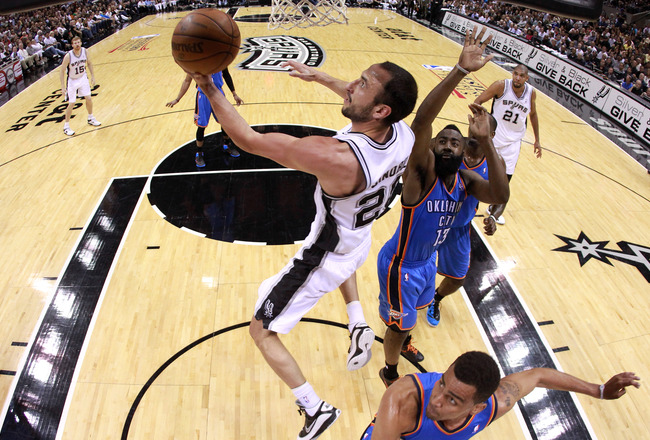 Manu Ginobili broke through when the San Antonio Spurs needed it most. The veteran sixth man scored 26 points that included a 11-point fourth quarter (3-3 fg, 5-5 ft) as the Spurs rallied back to take Game 1 of the WCF from the Oklahoma City Thunder 101-98.
(Darren Abate/Associated Press)
With the Spurs trailing 62-71 after three quarters, coach Greg Popovich told his team prior to the start of the fourth quarter that he wanted some nasty in their game. The Spurs responded, drawing offensive fouls and playing with a sense of urgency – opening the door for a rally and their 19th consecutive victory.
The Thunder were hitting on all cylinders for about three quarters despite a rough shooting night for Russell Westbrook (7-21, 17 points) and James Harden (7-17, 19 points). Kevin Durant was solid, leading all scorers with 27 points and 10 rebounds and 3 blocks. The Thunder got a major surprise with the play of veteran Derek Fisher, the veteran guard finished 6-8 for 13 points. Tim Duncan was a force in the paint with 11 rebounds (4 offensive) and added 16 points. Reserve guard Gary Neal was a huge contributor off the Spurs bench with 12 points in 24 solid minutes.
Former five-time world champion Johnny Tapia was found dead yesterday in his home in Albuquerque, NM., Tapia was 45. Despite fighting personal issues fans rallied around Tapia (59-5-2) who became one of the sports most beloved fighters. Tapia was highly respected by his peers, so much to the point that Marco Antonio Barrera wore Tapia's name on his trunks as a tribute. Authorities have stated that his death did not look suspicious.
The Lineup:
NFL Fantasy Football quarterback rankings (Fantasy Geek.com).
Coach Pop's Nasty speech (SB Nation).
The SheilaEdrummer Daily (Paper li).
Report: Elton Brand  and Lou Williams want to remain in Philly (the last part of that quote is Brand to Michael Tillery)  (HoopsHype).
Ramon Sessions eyes return to the Lakers (Hoopsworld).
Two men set themselves on fire in Tibet (CNN).
Read up on Matt Forte's messy money situation with the Chicago Bears (CBS Sports.com).
Today, take time to remember those that paid the ultimate price (myMotherLode.com).
Cookouts will be in abundance today, I'll kick it off with this classic…