(Reuters)
Michael Vick's life has been nothing short of extraordinary since his release from prison. He's the starting quarterback on a Super Bowl contender, a new shoe deal with Nike and he's made good as an advocate for abused dogs. He's even marrying his long time sweetheart who was by his side, for richer or for poorer.
But according to CBS Sports Mike Freeman, the American public has refused to let go of Vick's past transgressions.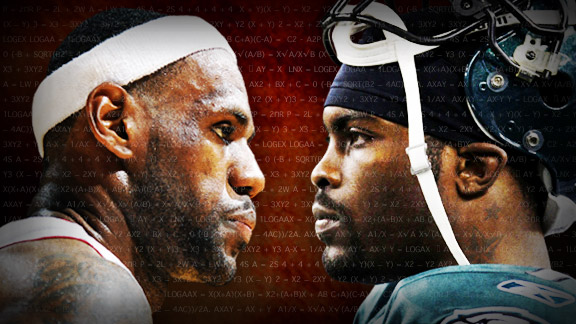 Before I go in on this, I will state that Mike Freeman is African-American which is really bothersome because I thought that most African-Americans (at least the ones that I know) understood the culture of dog fighting and why Vick was really sent to jail.
Freeman names players like Vick's teammate DeSean Jackson, the Detroit Lions Ndamukong Suh whom he labeled a dirty player, Antonio Cromartie and Brandon Marshall.
What's more unnerving is his rationale for placing these players on this less than impressive list. I'm unsure if he's trying to draw laughs or the ire of individuals with this outdated foolishness.
He offers honorable mentions to Ray Lewis, Adam Jones (still referring to him as Pac-Man Jones) Donte Stallworth, Randy Moss and O.J. Simpson.  These men have either paid or are in the process of paying whatever sentence the judicial system handed down to them.
I'm all for getting on a guy when he's wrong, and that depends on how much of the truth we can piece together. But when time or justice has been served let it go. Up until a few months ago I thought the majority of bad press about African-American athletes fell from the pen of white journalists. The unnecessary scrutiny of LeBron James this season took journalism to a new low and African-American journalists led the charge because they were either:
Too afraid to stand out as defenders of James
Too busy trying to follow the path of a beaten narrative
Too stupid to realize that James did nothing wrong
I guess the pot really does call the kettle black.
The Lineup:
Adam Morrison has become the Matt Leinart of the NBA (Slam Online).
Kris Humphries should've kept it moving (In Flex We Trust).
Michigan State and UConn tip of Nov. 9th on German Air Base (ESPN).
Houston Rockets making moves before the draft (IamaGM).
Brooklyn Nets mascot developed by Marvel Comics (In Flex We Trust).
Gotta feel for Venus Williams (Real Cleat Sports).
Penn State football will never feel the fallout of the Sandusky trial. (The Daily Beast).
Larry Bird stepping down from Indiana Pacers (IndyStar.com).
79 children rescued in child prostitution sting (CNN).
The Real Black Superheroes have returned just in time!