(ESPN)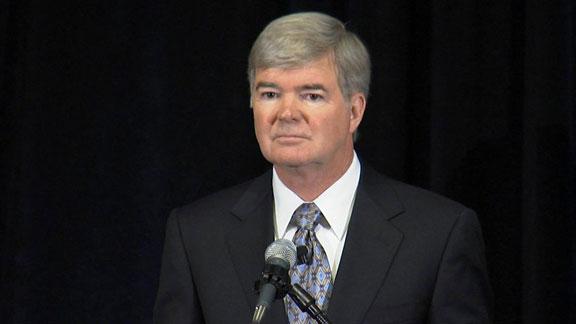 The wrath of the NCAA swept down upon Happy Valley with vengeance and furious anger for the sins of Jerry Sandusky. It will be quite some time before the Penn State football program is heard from again.
(ESPN)
NCAA president Mark Emmert addressed the media this morning with groundbreaking sanctions against the Penn State football program.
The sanctions are as follows:
A $60 million fine, equal to the one-year revenue of the football program. Made payable to an endowment fund for external programs preventing child sexual abuse.
The football program will have all wins between 1998 and 2011 vacated, this drops Joe Paterno's win total from 409 to 298 and from 1 to 12 in all-time NCAA Division I victories.
Penn State must also reduce 10 initial and 20 total scholarships each year for a four-year period.
Four-year postseason ban, players may transfer to other schools with immediate eligibility
Athletic department is placed on probation for five years
As a result of the the sanctions, John Gagliardi with a record of 484–133–11 is first in college football wins. He's coached at DIII Saint John's University in Collegeville, Minnesota since 1953. Eddie Robinson is first in Division I-AA college football history, with a record of 408-165-15 at Grambling State. Bobby Bowden is first in FBS history with a record of 377–129–4 at Florida State University. 12 wins vacated. Bowden won 411 total games as a Head Coach. His wins at South Georgia College are also not counted by the NCAA.
Emmert and chairman Ed Ray were direct and forthright on their handling of these sanctions.
"In the Penn State case, the results were perverse and unconscionable," Emmert said to reporters at the NCAA headquarters in Indianapolis, Indiana.
"No price the NCAA can levy with repair the damage inflicted by Jerry Sandusky on his victims," he said, referring to the former Penn State defensive coordinator who was found guilty on 45 accounts of child sex abuse last month.
The Penn State program as we know it has ended, the last 14 years of this program and its coach have been erased behind unthinkable acts shielded by lies and deceit.
The NCAA did the right thing today. But how long will their glass house stand?  A billion dollar corporation with a thrift shop mentality has become intercollegiate athletics when it comes to student athletes. Mark Emmert and Ed Ray haven't won any new friends today, believe that.
As the Penn State saga fades from the memories of those not directly affected by this unprecedented chain of events. The sins and hypocrisies of the NCAA will once again come into focus.