Posted in
Blogroll
on August 26th, 2012 by Ron Glover
(Getty Images)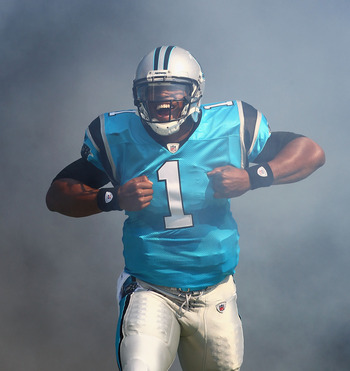 Newton is no mere mortal on Sundays…
At last year's NFL Combine Cam Newton told the world of his desire to have an iconic NFL career. His proclamationwas met with a swift roll of the eyes and passed off as nothing more than some blood pumping rhetoric he'd heard on a Jay-Z track. After the Carolina Panthers made Newton the first overall pick, pundits chirped about Newton's NFL learning curve and how his athleticism and accuracy would be nullified against bigger and quicker defenders. Lines and phrases that have now become cliche' when analyzing African-American quarterbacks.
Newton's rookie campaign was kaleidoscopic. With an impressive arm and an uncanny ability to improvise, Newton pimped his share of NFL defenses while setting a new rookie standard in the process.
The so-called experts have picked up their jaws just in time to witness Act II.