(Getty Images)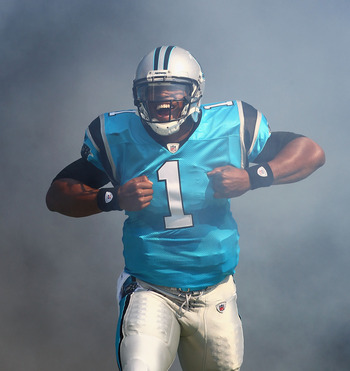 Newton is no mere mortal on Sundays…
At last year's NFL Combine Cam Newton told the world of his desire to have an iconic NFL career. His proclamationwas met with a swift roll of the eyes and passed off as nothing more than some blood pumping rhetoric he'd heard on a Jay-Z track. After the Carolina Panthers made Newton the first overall pick, pundits chirped about Newton's NFL learning curve and how his athleticism and accuracy would be nullified against bigger and quicker defenders. Lines and phrases that have now become cliche' when analyzing African-American quarterbacks.
Newton's rookie campaign was kaleidoscopic. With an impressive arm and an uncanny ability to improvise, Newton pimped his share of NFL defenses while setting a new rookie standard in the process.
The so-called experts have picked up their jaws just in time to witness Act II.
(Kevin Cox/Getty Images)
Newton's deep ball accuracy gives the Panthers the ability to strike quickly…
Cam Newton is the leader of the NFL's new school of quarterbacks. Part Warren Moon, part Randall Cunningham, all gladiator. His game is built for glory and his smile for Madison Ave, but until Newton hoists a Lombardi Trophy he'll be just another in a long line of African-American quarterbacks who dazzled and eventually fizzled.
It would be foolish for any of us to expect Cam Newton to replicate his phenomenal rookie season. What should be expected is scrutiny at every overthrown pass, interception and game the Panthers don't put in the win column.
Cam Newton's media baptism began in his junior year at Auburn University. Newton was at the center of a recruitment scandal where he and his father were cleared of any wrongdoing. For weeks it was speculated that Newton's father was cutting a deal to send his son to the highest bidder before enrolling at Auburn University. As the media dug deeper, dirt began to surface on Newton. The most publicized story involved a stolen laptop linked to Newton during his sophomore year at the University of Florida. Newton was released from the team and transferred to Binn College before enrolling at Auburn University in 2010.
Newton would play his best ball at the height of the scandal, sweeping his way through the college awards, including the Heisman Trophy. In January 2011, he would end his collegiate career winning a National Championship in college football's toughest conference, the SEC.
Discussions of Newton's "character issues" lingered despite being taken #1 overall in the NFL Draft by the Carolina Panthers who had reservations about Newton. Panthers owner Jerry Richardson was concerned enough to question Newton's views on body piercings and tattoos of which Newton had no interest in obtaining. Richardson was trying to carry out his own form of policing based on his perception of Newton. After witnessing Newton's exploits firsthand last season, don't surprised if Richardson has some ink of his own with "Carolina Cam" in action.
After Week 1, there was no question that Newton was going to be the man to lead the Carolina Panthers back to respectability. In his first professional game against the Arizona Cardinals, Newton was 24-37 passing for 422 yards, 2 touchdowns and an interception. Newton also ran for a score, his 422 passing yards were a record for a rookie debut, but the Cardinals would get the win 28-21.
It was Newton's performance in Week 2 against the Green Bay Packers that opened eyes around the league – and shut an equal share of mouths.
To prove Week 1 was no fluke, Cam one-upped himself against one of the NFL's top defensive units the following week.
Newton and the Panthers held their own against the world champion Packers and quarterback Aaron Rodgers. Newton would again top 400 yards passing, throwing for 432 and a rushing touchdown in the Packers 30-23 victory. Even in victory, Rodgers made it a point to give his impression of Newton in a USA Today recap:
"I was happy about the outcome but wanted to get the point across that I was really impressed with him," Rodgers said. "To watch it in person and to see a young kid like that play like he was playing, you've got to give him a lot of credit."
(Kevin Cox/Getty Images)
With more experience and weapons, days like this will be rare…
In his first two games as a pro, Newton had broken several rookie records and earned the respect of his teammates and peers around the league. But the numbers that mattered most were hardest to come by. The Panthers were winless and would have to wait until Week 3 to get their first win. The Panthers went into the bye week a disappointing 2-6, depending on who you asked, it was par for the course. 
Newton's outstanding play rejuvenated the career of Panthers wideout Steve Smith, a perennial Pro Bowler who faded into obscurity in the wake of recent quarterback movement. Newton's ability to throw the deep ball with accuracy was just what the doctor ordered for Smith. Newton had become the focus of defensive coordinators around the league and was a virtual one man-gang, but the losing was beneath his expectations.
"I always give the same response about, 'Cam, are you really surprised with your performance?' Whether it's a reporter, whether it's whoever that's asking me, I've asked this question to them: 'Have you ever put a large body of work into something and expected it just to be OK?' … So why would I be surprised with my performances right now. If anything, I feel like I've failed myself due to this game is about wins and losses. And I'm not hanging my hat on no 2-6 season and we still have an opportunity to change that."
Newton's numbers were even more impressive because of a limited training camp due to the lockout that curtailed his time, not his preparation.
"I would say that the offseason is as simple as what the offseason could be for me. That's just the same thing that's got me to this point right now, and that's hard work and dedication. Everywhere I went, [my family] was right there pushing me. … Everybody was there just knowing what I had to do to become great. That's not just something that happens on Sundays. … To some degree, we're reaping what we put in." (Courtesy of the 2 Live Stews)
The Panthers would finish the season 6-10, winning four of their last six games. Newton would shatter the rookie passing record by passing for 4,051 yards, 21 touchdowns, 17 interceptions and a 84.5 passer rating. Toss in an NFL record 14 rushing touchdowns by a quarterback and a completion percentage of 60 percent. Newton would also be named NFL Rookie of the Year and named to his first Pro Bowl.
After setting nine rookie records and nine NFL records, Newton wouldn't entertain the thought of lashing back at his detractors.
"I have never had that thought to say: 'Boom. I proved everybody wrong.' I threw for 400 [yards]. That was merely sold on why we were losing the football game. Even though those stats and accolades are fine and dandy for a rookie coming in throwing for 'X' amount of yards, but at the end of the day 'Why do we really play this game?' Both of those games were in hand games. We played the Green Bay Packers defense and we had them down by 14 points and it's like man how do we give up this lead? Then we had a 7-point lead on Arizona, so looking back on those games now – I am looking and how do I get better next year if that opportunity presents itself again and I turned the ball over numerous times in both of those games and I can't do that." (Courtesy of WFAN, New York)
Heading into the 2012 season the tone of the media towards Newton has changed, almost apologetic. As the media continues to buy time for Tim Tebow and his developmental transgressions, Newton's feet will be held to the hellfire that comes with the dissection of African-American quarterbacks. Meanwhile Newton has become one of the more marketable players in the NFL. Something that wasn't envisioned a year ago.
Newton and the Panthers suffered in the first half last season because of an inept running attack. The Panthers have potential 1,000 yard backs in DeAngelo Williams and the newly signed Jonathan Stewart. Newton leading the team in rushing after the first month was indicative of their slow start. The running game kicked in and the Panthers finished with three players over 700 yards, an NFL record. The health and production of Stewart and Williams will go a long way in the progression of Newton and the offense. Mike Tolbert gives the backfield a short yardage back capable of 10+ carries if necessary.
The benefit of a full schedule of OTAs and training camp has given Newton and his teammates the opportunity to jell into a formidable unit. This preseason the receiving of Stewart and Williams out of the backfield adds another dimension to the offense. Stewart was third on the team in receptions with 47 for 413 yards.
Although it looked as if wideout Steve Smith caught all 21 of Newton's touchdown passes, Smith was only one of six players to score a touchdown reception from Newton. Newton and Smith hooked up for 79 receptions for 1,394 yards and 7 touchdowns. Lost in the outstanding season from Smith was the emergence of #2 receiver Brandon Lafell. In 15 games, Lafell hauled in 36 receptions for 613 yards and three touchdowns. The receiving game should be given a boost with the return of speedster David Gettis who missed last season with a torn ACL. The Panthers are hoping that Gettis can return to the vertical threat he was prior to his injury.
The strength of the Panthers passing attack lies literally in the hands of tight ends Jeremy Shockey and Greg Olson. The duo combined for 85 receptions for 995 yards and 9 touchdowns. Shockey has been replaced by nine-year veteran Ben Hartsock who is used primarily as a blocker. Gary Barnage is a big target with good hands and should get some looks in the red zone.
The health of the offensive line is showing early in the preseason. The line has held its own and Newton isn't running for his life. The line looks to be a strength again as expectations are high for the Panthers ground attack.
The Panthers defense is healthy and much improved, the addition of rookie linebacker Luke Kuechly with returning veteran Jon Beason will definitely solidify that unit.
I'm not going to predict any concrete numbers for Newton. I know that he'll have a healthier supporting cast which will equal more victories. His touchdowns should be in the neighborhood of say 26-29, with more receptions coming from his backs this season. Receivers in the flats will allow Newton to get rid of the ball quickly and support the Panthers running game.
My concern for Newton as his career moves forward is where is he'll be viewed in the next couple of years. If he remains on a steady 3,500 yard, 29 touchdown, 12 interception pace, will he remain grouped with the Joe Flaccos and Matt Cassels of the world? Will he continue to be linked with Tim Tebow, an association that only benefits Tebow who is light years away from Newton in terms of talent. 
Or is Newton in a dress rehearsal to be cast as a novelty quarterback whose talents will waste in a flurry of 7-9 seasons, full of "what ifs". Is the Panthers brass committed to go out and find the heir to Steve Smith as they continue to build the offense to suit Newton's skill set? Will they get the playmakers needed on defense to make the Carolina Panthers a championship franchise once again? 
Cam Newton is holding up his end of the deal quite well, it's time for Jerry Richardson to do the same.
Confidence is what impresses me most about Newton. In the face of scrutiny at Auburn, he never stopped smiling. It was almost if he knew that things were going to work out in his favor. In the glare of the Heisman Trophy and being selected first overall in a lockout season almost sure to curtail his progression, Newton stayed about his work. Those Under Armour workouts with Tom Brady weren't just for show, an education came along with that. Brady knows what it's like to be counted out and end up on top, just peep the Sequoia on his shoulder. Cam for all of his accolades knows in some circles they're waiting for JaMarcus Russell to surface. Newton is chasing immortality while the ghosts of history pursue him.
Smiling all the way.