(Getty Images)
Hard Times…
In two weeks, Chad Johnson and Terrell Owens have been given their walking papers from the Miami Dolphins and Seattle Seahawks, respectively. While their better days are behind them both were capable of helping a team in need of a veteran receiver.
With both players falling on hard times, it looks like the NFL is creating its own separation from Johnson and Owens.
(Kevin Cox/Getty Images)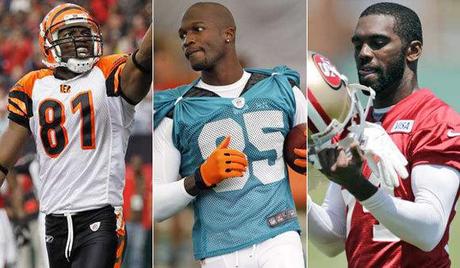 Last of the Divas…
As much they made us believe that the NFL needed them, Chad Johnson and Terrell Owens need the NFL more than ever. Owens is behind on child support payments and could be facing time in the slammer. Johnson was recently involved in a domestic abuse ordeal with his wife of 41 days while he was trying to make the Dolphins roster. 
Say what you want about their antics and sometimes childish behavior, but you can't label these guys as problem players. It's only until now that their private lives has taken precedence over on field production. Throw in the reality shows with the dramatics that followed and it's plain to see where things went awry. News of their troubles was met with  shakes of the head, silent snickers and public ridicule. Their arrogance was humbled and now they were at the mercy of the coaches and most importantly, the Shield that some feel they shamed.
In terms of what they can contribute on the field, both players can be productive in the right situation. Owens last full season in the league was ironically in Cincinnati with Johnson where he nearly had a 1,000 receiving yards. In Seattle Owens was in competition with 12 other receivers looking to make a roster that will feature rookie quarterback Russell Wilson. Seems weird that Owens couldn't make a roster that featured Sidney Rice and Mike Williams at wideout.
Johnson completely lost focus in New England last season. This summer he was in the process of locking down a spot in the Dolphins receiving rotation before the domestic incident which became the out that Joe Philbin needed to jettison Johnson. Philbin drew criticism from his players for acting quickly and not consulting veteran players on the team
Things are looking better for Randy Moss who has signed on with the San Francisco 49'ers. Moss has kept a low profile and is looking to make his mark on the Super Bowl contender. The Niners have stated that they will have Moss on the field for about 25 plays per game this season. It almost sounds like they're daring Moss to become frustrated and cause a distraction which could lead to his ouster.
Who's really more dramatic here?
The Lineup:
South African Miners were shot in the back during massacre (The Daily Beast).
Brian Westbrook retiring as an Eagle on Wednesday (Pro Football Talk).
Court rules Israel not at fault in activist's death (NY Times).
Investors making a pitch for Sacramento Kings (NBA Daily).
Brady Quinn wins #2 job in Kansas City (Pro Football Talk).
Negativity towards our women has to stop (Huff Post).
The Cap'n will get his statue (NBA Daily).
Will the blockbuster deal hurt the Dodgers (ESPN).
Five critical adjustments Doug Collins needs to make in Philly (NBA Daily Post).
Bills trade for Tavaris Jackson, cut Vince Young (ESPN).
Not a good feeling…