The NFL season kicks off a day early to ensure President Obama's speech at the Democratic National Convention is given its proper audience.
The New York Giants and the Dallas Cowboys resume one of the most bitter rivalries in the NFL as the highly anticipated 2012 NFL season kicks off.
(Rich Schultz/Getty Images)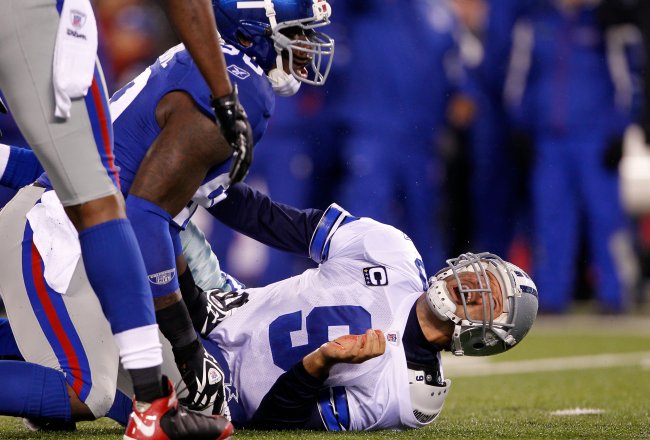 The Giants pass rush is looking to pick up where they left off with Tony Romo…
It seems like the New York Giants and the Dallas Cowboys can't stay out of each others way.
Their last meeting of the season was for the NFC East title and a ticket to the playoffs. The Cowboys were thumped 31-14 on New Year's Day. Despite a 9-7 record (the Giants were 8-8) Dallas was forced to watch the Giants win their second Super Bowl in five years.
The Giants are counting on their front four to continue their torment of the Cowboys offensive line. The Giants have sacked Tony Romo 14 times in their five meetings — including six in last season's finale. Cowboys center Phil Costa may be out with a bad back and tight end Jason Witten is almost definitely out with an injury to his spleen — huge blows to the Dallas passing game. Giants linemen Osi Umenyiora, Justin Tuck and Jason Pierre-Paul are all healthy for the first time in a while.
The Cowboys have to run the ball at least 30 times to offset the Giants pass rush. DeMarco Murray and Felix Jones have to stay the course and realize minimal gains are part of a bigger picture. Tony Romo will be able to take shots downfield against a hobbled New York secondary. Well-traveled cornerback Michael Coe will replace the injured Prince Amukamara (Leg). Expect Dez Bryant to get his share of opportunities in this matchup. If Miles Austin (Hip) is able to go Bryant could be in for a huge game. Bryant will also see time on the Cowboys special teams as a punt return specialist.
(Tony Gutierrez/AP)
The Cowboys need DeMarcus Ware to strut his stuff all night to get a win. 
DeMarcus Ware may be the most disruptive force on the field. The success of the Cowboys defense depends on how much pressure he can get on Eli Manning. Ware getting to Manning is a bonus but pressure on Manning equals turnovers. Newcomers Morris Claiborne and Brandon Carr need to be aware of ducks up for grabs. The Giants still have a power running game with Ahmad Bradshaw. Rookie back David Wilson provides a change of pace not seen in the Meadowlands since Tiki Barber.
If Manning has time to throw the Cowboys are toast it's that simple. I'm curious to see what can Victor Cruz do for an encore. Is Hakeem Nix good enough to validate the Giants allowing Mario Manningham to walk? Martellus Bennett has run his mouth all summer and will get a chance to one-up his former teammates in front of the entire league.
Prediction: The Cowboys are going to miss Jason Witten as a blocker and receiver. Getting the ball out early may work for a while but sooner or later the Giants pass rush is going to wear out an already beat up Dallas O-Line. If the Giants can keep Ware and Jay Ratliff contained Manning should be in a rhythm all night. Giants roll in Week 1.
Giants 31 – Cowboys 20