(Getty Images)
A stunned Stan Koch is still waiting for Billy Cundiff's kick to split the uprights…
Gone are Lee Evans and Billy Cundiff — the culprits responsible for the Ravens loss in last year's AFC Championship Game. This week's rematch catches both teams coming of tough losses.  Both teams were in physical contests last week –I'm curious to see which team is able to take control of the game.
Other games of note: the undefeated Eagles and Cardinals meet in the desert, the Chargers host the Falcons and the Texans take on the Broncos.
Sunday September 23, 20012: 1:00 pm:
(Jonathan Daniel/Getty Images)
Julius Peppers had three sacks against the Packers in a losing effort.
St. Louis Rams (1-1) at Chicago Bears (1-1) – I like the Rams young nucleus just not this week. The Bears have had some time to get their stuff together and should be ready. That includes Jay Cutler.
Bears 31 – Rams 23
Tampa Bay Buccaneers (1-1) at Dallas Cowboys (1-1) – Things have been quiet in Dallas this week. Either they're mad as hell or some real damage was done in last week's loss. The Bucs are coming to play.
Cowboys 24 – Buccaneers 23
San Francisco 49'ers (1-1) at Minnesota Vikings (1-1) – Adrian Peterson will be put to the test against an unforgiving Niner defense.
Niners 28 – Vikings 17
Detroit Lions (1-1) at Tennessee Titans (0-2) – Chris Johnson has been bottled up and thrown away, he needs a breakout game. The Lions learned some tough lessons in that Niners loss and are looking to right the ship.
Lions 31 – Titans 21
Cincinnati Bengals (1-1) at Washington Redskins (1-1) – The Redskins have to overcome two huge losses in their defense. The Bengals shot it out with the Browns last week.
Bengals 23 – Redskins 20
(NY Daily News)
Corner back Darrelle Revis returns to the Jets this week.
NY Jets (1-1) at Miami Dolphins (1-1) – This isn't going to be one that the Jets can write in. If Reggie Bush can get the 'Phins running game going they'll be in the game.
Jets 24 – Dolphins 13
Kansas City Chiefs (0-2) at New Orleans Saints (0-2) –  This one comes down to QB production — Brees in a landslide
Saints 33 – Chiefs 20
Buffalo Bills (1-1) at Cleveland Browns (0-2) – C.J. Spiller will continue to spark the Bills offense.
Bills 24 – Browns 13
Jacksonville Jaguars (0-2) at Indianapolis Colts (1-1) – Maybe the Jags should consider a move to Toronto
Colts 28 – Jaguars 13
Games beginning at 4:05 or later:
(USA Today)
DeSean Jackson will have his work cut out for him Sunday.
Philadelphia Eagles (2-0) at Arizona Cardinals (2-0) – Not much else can go wrong for the Eagles other than the Cardinals don't lay down.
Cardinals 24 – Eagles 23
Atlanta Falcons (2-0) at San Diego Chargers (2-0) – I don't know what's gotten into Phillip Rivers but he's ballin early. Ditto Matt Ryan.
Chargers 31 – Falcons 23
Houston Texans (2-0) at Denver Broncos (1-1) – The Texans running game will be the difference in this game.
Texans 27 – Broncos 17
Pittsburgh Steelers (1-1) at Oakland Raiders (0-2) – The Steelers may be without James Harrison and Troy Polamalu for the second consecutive week. The Raiders losing streak ends here.
Raiders 24 – Steelers 20
New England Patriots (1-1) at Baltimore Ravens (1-1) – Too much going on in the Patriots locker room and front office that will carry out on to the field. Expect a heavy dose of Ray Rice.
Ravens 27 – Patriots 21
Monday September 24, 2012 8:30 pm:
(Rob Leitheit/US Presswire)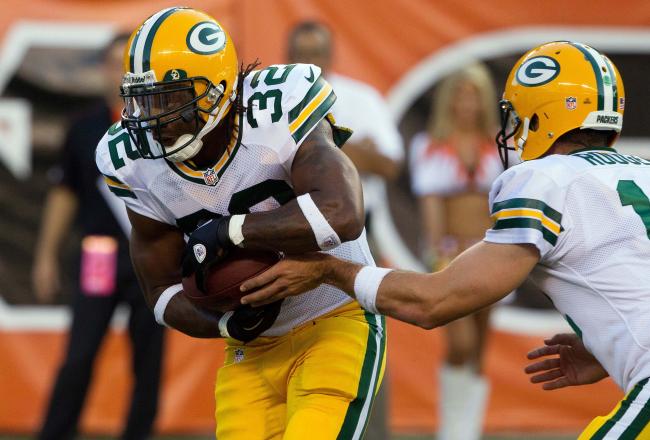 Cedric Benson's increased production is vital to the Pack's success.
Green Bay Packers (1-1) at Seattle Seahawks (1-1) – I think the Seahawks make this a game. Greg Jennings still has not practiced for the Packers.
Packers 24 – Seahawks 21
Last Week: 9-7
2012 Season: 15-17