(AP)
This is a talent looking to regain greatness…
I'll take the Mike McCarthy approach and not discuss the replacement officials or last night's game. A great defensive effort by both teams was eclipsed by one of the great blown calls in recent memory. More on that in the Tip-Off.
Instead we'll check in on Chris Johnson, Arizona Cardinals and more.
 (Norm Hall/Getty Images)
The Cardinals D has lifted them to a 3-0 start.
1. How good are the Arizona Cardinals? The Cardinals defensive unit is right there with some of the NFL's best. In back to back weeks Ray Horton's defense has held the high powered offenses of the Patriots and Eagles to less than 20 points. The Cardinals front seven is led by DT Darnell  Dockett and DE Calais Campbell. Dockett brings the heat up the middle while Calais uses every inch of his 6'8″ frame to obstruct the view of quarterbacks. Third-year linebacker Daryl Washington is a play maker who is off to a hot start. Patrick Peterson in his second season has already gaining the reputation as a shutdown corner back.
Kevin Kolb has cut down on his errors by getting rid of the ball quickly and leaning on the run. Will Ken Whisenhunt pencil in John Skelton as the starter when he's healthy is the big question. Larry Fitzgerald is still the focal point of the offense. The Cardinals 27th ranked rushing attack will have to round into form to balance things out.
2. Which of the 1-2 teams do you believe in? In the AFC it's definitely New England and Pittsburgh. I'm not sure about the Denver Broncos just yet. Turnovers and the inability to move the chains has had the Broncos playing from behind in recent weeks.
Green Bay will get past last night's game. Detroit and Washington are able to move the ball effectively, but can't stop anyone. I think Carolina will bounce back by running the ball more. I need too see some more nasty from Tampa Bay for them to be considered.
3. How big of a deal was Cam Newton's comments after last week's loss to the Giants? Newton's leadership skills have suddenly been called into question after last week's loss to the NY Giants. Newton's body english and statements after the loss was received with mixed reviews. Newton was embarrassed for not living up to the moment and shouldered the blame. On the other hand his choice not to give the Giants defensive unit any credit rubbed some people the wrong way.
Then there was the reported scolding that veteran wide receiver Steve Smith gave a sulking Newton late in the game not picked up on camera. Newton sat alone on the bench away from teammates after throwing his third interception. Smith would say later that he had some unchoice words for Newton distancing himself from teammates. According to a report by ESPN's Chris Mortensen, Newton is working with a mind coach to help him along in his second season. Newton has denied this report.
The media has been waiting to sink their teeth into Newton for over a year. In his worst game any of us have seen him play as a collegiate or professional the media feels they have found an open chink in Newton's armor. History suggests they will continue to pull and tug until he is stripped down to their satisfaction.
If he allows it.
(Don McPeak/US Presswire)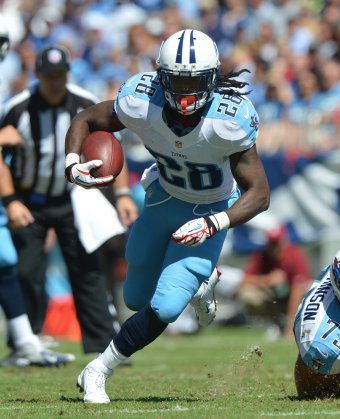 Chris Johnson's numbers have dropped since his 2,000 yard season in 2009.
4. What's going on with Chris Johnson? The Tennessee Titans are in a full rebuilding mode and Chris Johnson is a critical part. This season Johnson has carried the ball 33 times for 45 yards and no touchdowns. Yes, this is the same Chris Johnson who rushed for 2,006 yards in 2009. Since that time Johnson numbers have been in sharp decline. Despite coaching changes and the like in Tennessee the one constant should have been the running game. Last year Johnson had a career low 262 carries but tallied a career high 57 receptions. The Titans need to look at their offensive line. Jake Locker is getting knocked around and Johnson can't give any relief in the run game. That's where the Titans brass needs to focus their attention and not on whether Johnson should be moved.