(Associated Press)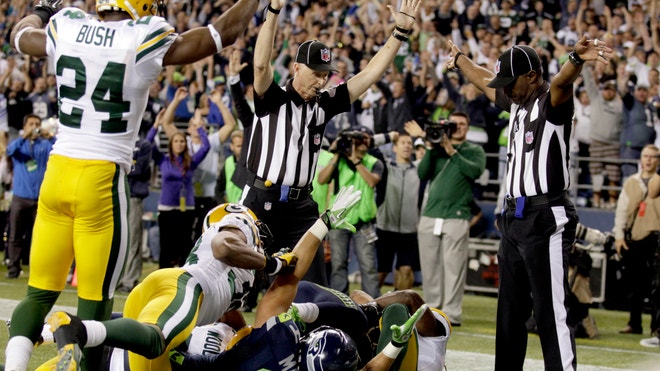 The signals of the officials at the end of the play tell the story.
It was going to happen at some point if things didn't change.
A great game between the Green Bay Packers and the Seattle Seahawks was marred by replacement officials once again stealing the headlines in the worst of scenarios.
Rule 8 – Section 3 – Article 1 – Item 5: Simultaneous Catch. If a pass is caught simultaneously by two eligible opponents, and both players retain it, the ball belongs to the passers. It is not a simultaneous catch if a player gains control first and an opponent subsequently gains joint control. If the ball is muffed after simultaneous touching by two such players, all the players of the passing team become eligible to catch the loose ball.
That was not a simultaneous catch.
The Green Bay Packers have every reason to feel cheated after last night's 14-12 loss to the Seattle Seahawks.
Quarterback Russell Wilson lobbed a pass into the end zone which was clearly intercepted by the Packers M.D. Jennings. Seahawks wide receiver Golden Tate appeared to come down with his arm in between Jennings and the ball but did not have possession at any point of the play. Tate clearly shoved corner back Sam Shields prior to getting entangled with Jennings.
One official signaled a the end of the game (meaning an interception for the Packers) while the other signaled a touchdown. After ten minutes of review the play was called a touchdown awarding the victory to Seattle.
Will the play be reviewed by league officials, and if so will it be overturned? Stay tuned.
Here are some of the more controversial finishes in NFL history:
The Lineup:
New Derrick Rose commercial (Dime Magazine).
NBA 2K13 demo is available on Xbox (Xbox Live).
Ron Rivera wishes Steve Smith had kept quiet (NFL.com).
President Obama knows he'll be called awful names (CNN).
Joe Mays apologized to Matt Schaub after his hit (Pro Football Talk).
David Blaine returns (In Flex We Trust).
Branson Wright's video interview with Jim Brown (Cleveland.com).
President Obama speaks at UNGA (CNN).
New releases today (In Flex We Trust).
Falcons DE John Abraham arrested (In Flex We Trust).
A good friend and nice comic talent out of Philadelphia…