(Philly.com)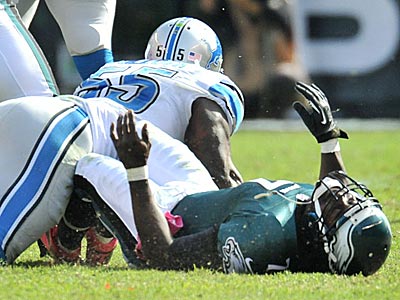 No Eagle can escape a Lion standing still.
When the Philadelphia Eagles signed Michael Vick in 2009 it seemed like a great idea. With Donovan McNabb's time on the team winding down and the uncertainty of Kevin Kolb, bringing in Vick seemed like the right move.
On top of the physical punishment, Vick has struggled with turnovers the past two seasons. Suddenly there are questions about his future in Philly. We can blame Reid all we want, but somewhere along the line Vick bought in to Reid's plan and that's when things changed.
 (Guardian.UK)
Being reduced to a pocket passer is only going to leave Michael Vick broken and alone.
Michael Vick has bought into Andy Reid's pocket passer propaganda hook, line and sinker. He has completely cast aside any thought of remaining a running threat in exchange for a weekly bludgeoning that would make Deacon Jones break into a sack dance.
There was a time when Vick would make a read and take off. Now he just reads, sits and waits as an already depleted offensive line breaks down in a matter of seconds. The turnovers will be placed at Vick's feet because he rushed a pass or fumbled because he held the ball to long instead of throwing it away.
The physical beating that Vick is taking is harder to watch than the turnovers. The most disappointing aspect of his role this season are his attempts to escape the pocket. Michael Vick should be in that 2010 groove, but instead the record has skipped off beat into a monotonous tone pleasing only to its conductor. 
He has chosen to buy into a pocket passer mentality. If it does bother him, he's keeping quiet to remain on the media's good side. Placing himself into the crosshairs of defensive coordinators who know Reid and the kind of quarterback he eventually ends up with.
Donovan McNabb's first five seasons in the NFL were filled with runs and passes on the run that seemed ideal for his skills. But as time went on McNabb decided to take on the role of a passer and dumping his penchant to run. McNabb cut his game in half and for the remainder of his career he turned out to be less of what he should've been.
Once McNabb bought in the Eagles playbook became an open book to defensive coordinators and T.V. analysts. The Eagles had the personnel to be so much more. Reid featured Brian Westbrook in screen packages, but he never brought in a fullback to add protection. He had all-pro bookends in William (Tra) Thomas and Jon Runyan, but they were used primarily as pass blockers. We won't get into the lack of a big play receiver during most of McNabb's tenure.
Vick has one of the NFL's best backs in LeSean McCoy and Reid uses him like he's made of glass. Any offensive line's strength lies in their run blocking which allows them to become the aggressor. DeSean Jackson and Jeremy Maclin aren't as dangerous because of Vick's inability to extend the play. But Reid continues to curse the thought of running the ball at the expense of his quarterback's health and potentially his job.
Take a look at the rookie quarterback in Chocolate City and tell me who that used to be?
The Lineup:
Possible knee surgery for Dirk Nowitzki (Hoops World).
The NBA is one step closer to returning to Seattle (Hoops World).
Will Gerald Green find a home in Indiana (Indianapolis Star).
The deficit was cut by $207 billion and dipping lower (Score for Obama).
Keith Pompey talks Temple University Football (Philly.com).
Tom Brady's response to Richard Sherman (Pro Football Talk).
Dwight Howard cleared for five on five workouts (The Sports Exchange).
Andrew Bynum set to resume practicing (Hoops World).
Evander Holyfield retiring (Sports Illustrated).
Nigerian museum celebrates Fela (Yahoo).
Philly's own Kevin Hart