(Howard Smith/US Presswire)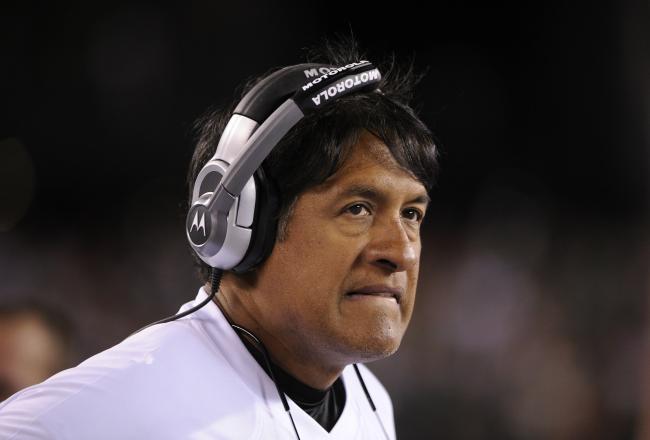 Juan Castillo's 18 years in the Eagles Organization ended with him being a scapegoat.
With 18 years as a coach on the Philadelphia Eagles staff, Juan Castillo was the longest tenured person in the organization other than owner Jeffrey Lurie. Castillo came to Philadelphia with former head coach Ray Rhodes as an offensive lineman coach. Last season Castillo was appointed by Reid to become the team's defensive coordinator. A move that was as heavily scrutinized as any during Reid's regime.
After seven blown fourth quarter leads in the last two seasons, Castillo was fired yesterday by Reid and replaced by first year defensive back's coach Todd Bowles. Jolting the team as they enter their bye week.  
(Associated Press)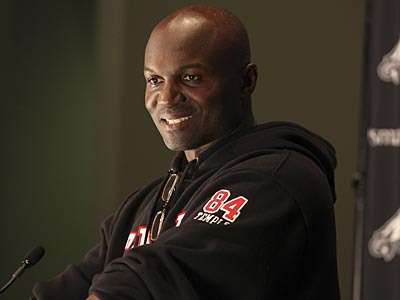 A splash by Todd Bowles could lead to one more meaningful introduction as a coach in the Eagles Organization.
Andy Reid said in his press conference yesterday that he takes full responsibility for the team's 3-3 start. He will evaluate the team top to bottom and make things right.
We've heard this for 14 draining seasons.
Yesterday Juan Castillo was added to the list of fall guys shoved into the path of an oncoming bus. By his own doing Reid promoted Castillo from an offensive lineman coach to defensive coordinator. An arrogant decision by Reid who scoffed at anyone who questioned his actions. Also it appeared to come off as penny-pinching by the organization.
Reid's football ignorance is the primary reason the Eagles are 3-3 and spinning out of control. Reid's lack of running the ball and his inability to adjust to the slightest wrinkle that the opposition throws at his team has been a steady topic.
But it was the arrogance of Team Reid that has put 14 seasons as a head coach in Jeffrey Lurie's crosshairs. In the days after the death of  Reid's son, agent Bob LaMonte spoke with Philly.com in August during training camp.  
"Lurie has stated again and again, any time that I've been with him, that was as long as he's the owner of the Philadelphia Eagles Andy Reid would be his coach," LaMonte said. "And I'd say the proof of the pie is in the pudding. He's been here 14 years."
Lurie reiterated his point days later stating that 8-8 is unacceptable and would remain that way.
Veterans like wide receiver Jason Avant have begun to speak out. After the Eagles blew a 13 point fourth quarter lead only to lose in overtime. Avant gave his assessment of the situation when he spoke with the Delaware County Times.
"Really, we could be 0-6" Jason Avant said. "So we are thankful that we have won three, and we want to be way better than we are right now. We need to do some soul searching and find out what we are going to be as a team; whether a disciplined, playoff-caliber team or an undisciplined 3-3 team"
The Eagles are in a bye week and will return to action at home against the undefeated Atlanta Falcons on October 28th. Reid has led on that more changes are in store. Michael Vick will remain the quarterback until all playoff hopes have been exhausted or his struggles with turnovers continue.
With Todd Bowles being promoted to defensive coordinator, Reid may be looking at his successor.
No more scapegoats, no more excuses and no more time.
The Lineup:
Miami rapper shot and killed in front of his children (In Flex We Trust).
Matt Cassell likes it in Kansas City (Pro Football Talk).
What Jeremy Lin's surgery means for the Houston Rockets (Mike & McGoutry Show).
Asante Samuel tweets on Andy Reid (Twitter).
Nike severs ties with Lance Armstrong (ESPN).
ACC Media Day (ACC.com).
Complete footage of the Presidential Debate (In Flex We Trust).
Some of the evidence against Lance Armstrong detailed (Yahoo).
Blackface at a High School pep rally (The Shadow League).
Questions for the Steelers this week (SB Nation).
Shout out to the Snowman.