(Al Bello/Getty Images)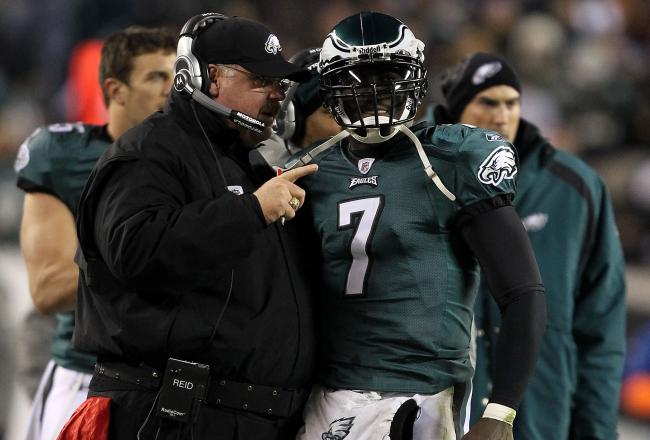 Two Birds on a wire.
The Atlanta Falcons travel to Philadelphia this week to face the Eagles in what may be the most important game of Michael Vick's career. The scrutiny of Vick and head coach Andy Reid has reached a fever pitch. Lack of production on Sunday could mean Vick losing his job to rookie backup Nick Foles. With ten games remaining in the regular season, Reid knows a record of 5-5 will not cut it.
Other notable games: Miami at NY Jets, Washington at Pittsburgh, NY Giants at Dallas and New Orleans at Denver.
Byes: Bengals, Bills, Ravens and Texans
October 28, 2012 (Games beginning at 1:00 pm):
Miami Dolphins (3-3) at NY Jets (3-4) – Talk this week about the Jets going after Reggie Bush has the Dolphins seeing red. I wouldn't mistake this team for a pushover.
Dolphins 24 – Jets 17
San Diego Chargers (3-3) at Cleveland Browns (1-6) – I can see the Browns winning this game, but Norv Turner has too much on the line to let this one get away.
Chargers 31 – Browns 20
Indianapolis Colts (3-3) at Tennessee Titans (3-4) – Should be a good game. Hasselbeck is more relaxed thanks to the ressurection of Chris Johnson.
Titans 24 – Colts 22
New England Patriots (4-3) at St. Louis Rams (3-4) – Tom Brady and the Patriots are looking to gain some momentum heading into the bye week.
Patriots 27 – Rams 14
Jacksonville Jaguars (1-5) at Green Bay Packers (4-3) – No Greg Jennings, no problem. James Jones, Reggie Cobb and Jordy Nelson will continue to pull their weight.
Packers 33 – Jaguars 10
Atlanta Falcons (6-0) at Philadelphia Eagles (3-3) – The margin of error for Andy Reid and Michael Vick is down to zero. The pieces are there to turn this around.
Eagles 30 – Falcons 21
Washington Redskins (3-4) at Pittsburgh Steelers (3-3) – Tough road game for the Redskins. It will be tougher to look at those Steelers throwbacks.
Steelers 26 – Redskins 20
Seattle Seahawks (4-2) at Detroit Lions (2-4) – I like the Seahawks big against the Lions who are all but done.
Seahawks 31 – Lions 17
Carolina Panthers (1-5) at Chicago Bears (5-1) – It's going to be another tough Q&A session for Cam Newton this week.
Bears 27 – Panthers 21
Games beginning at 4:00 pm or later:
Oakland Raiders (2-4) at Kansas City Chiefs (1-5) – Chiefs in a close one.
Chiefs 21 – Raiders 20
NY Giants (5-2) at Dallas Cowboys (3-3) – The Giants will continue to put their feet up in Jerry's new home.
Giants 28 – Cowboys 20
New Orleans Saints (2-4) at Denver Broncos (3-3) – With snow in the forecast, I'm curious to see how two dome quarterbacks fare.
Broncos 27 – Saints 21
Monday October 29, 2012 8:30 pm:
San Francisco 49ers (5-2) at Arizona Cardinals (4-3) – The Cardinals will put up a fight, but lose their fourth in a row.
49ers 23 – Cardinals 17
Last Week: 9-4
2012 Season: 62-42