(J. Pat Carter/Associated Press)
The NBA kings get their rings.
The Miami Heat raised their second championship banner and LeBron James received his first championship ring. After the pomp and circumstance, it was time to get down to business. The Boston Celtics did their best to crash the Heat's party and the debut of former teammate turned rival Ray Allen.
Dwyane Wade scored 29 points, LeBron James added 26 to go with 10 rebounds and Allen pumped in 19 as the Heat cruised to a 120-107 opening night victory.
(Getty Images)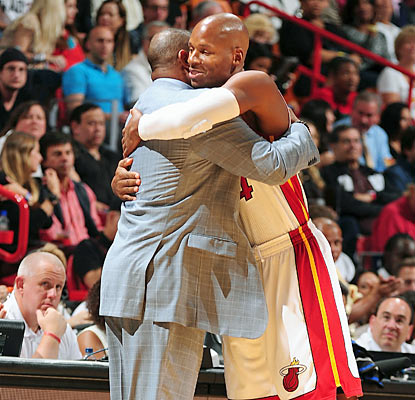 Not everyone from the Celtics was offering pounds and bearhugs for Ray Allen.
It was the season opener for both teams, but the Heat and Celtics picked up right where they left off last June. Before entering the game, Ray Allen went out of his way to greet his former coaches and teammates. Doc Rivers gave Allen a hug and some words and the assistant coaches offered handshakes.
When Allen approached Kevin Garnett (9 pts. 12 rebs.) seated on the bench, he ignored Allen, staring straight ahead as his former mate tapped his shoulder.
That's just how Black Pharaoh operates…
Allen's first regular season field goal as a member of the Heat was what else…a three pointer.
Paul Pierce (23 points) and Rajon Rondo (20 pts., 13 assts.) paced the Celtics. Leandro Barbosa was great off the bench for his new team — scoring 16 points in 16 minutes of action.
LeBron James (26 pts. 10 rebs.) left the game twice for cramps in each leg. When he left in the fourth quarter for good the Celtics went on an 11-2 run and cut the lead to 111-107. Chris Bosh (19 pts, and 11 rebs.), Mario Chalmers (8 pts., 11 assts.) and Rashard Lewis (10 pts., 5 rebs.) picked up the scoring slack to close out the third quarter — giving the Heat their biggest lead of the game.
With the game in hand, Dwyane Wade (29 points) drove past Rajon Rondo and was grabbed around the neck by the Celtics point guard. Wade restrained himself and Rondo was assessed a flagrant foul — putting a cap on an emotional evening and setting the tone for their next meeting.
Notes:
Dwyane Wade became the 123rd player in NBA history to surpass 15,000 points.
Rajon Rondo dished out 10 assists for the 25th consecutive game.
(Getty Images)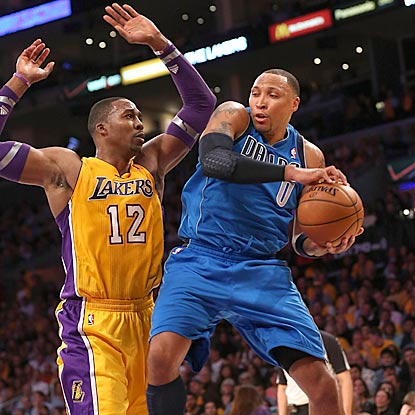 Shawn Marion and his Dallas teammates were unfazed by the presence of Dwight Howard.
The Dallas Mavericks ruined the script for Dwight Howard's Los Angeles Laker debut. The Mavericks underwent some changes of their own in the offseason, many of playing key roles in last night's 99-91 road win over the Lakers.
The Mavericks were without Dirk Nowitzki and newcomer Chris Kaman, their absence inspired gritty play from Shawn Marion (11 pts., 9 rebs), Brandon Wright (14 points), and Elton Brand (9 pts., 11 rebs.). The Mavericks had six players score in double figures, led by Darren Collison with 17. Another player making their Maverick debut was O.J. Mayo who scored 12 points.
Dwight Howard (19 pts., 10 rebs.) missed his first shot, a dunk, which seemed indicative of his debut in purple and gold. Howard was 3-14 from the free throw line and was assessed a flagrant foul before fouling out with 2:02 remaining. Kobe Bryant scored 22 points on 11 of 14 shooting. Steve Nash had seven points and four assists in his Lakers debut. The Lakers were led by Pau Gasol with 23 points and 13 rebounds.
The Mavs began to pull away in the third quarter and seemed to gain confidence as the contest went on. The Lakers as a team were 12 of 31 from the free throw line, an obvious reason why they were unable to close the gap in the second half.
Cavaliers 94 – Wizards 84 – Anderson Varejao grabbed 23 rebounds.
The Lineup:
Ray Allen's Air Jordan 16 (Nike Blog).
Lil' Wayne scolded by judge (In Flex We Trust).
Are the Cowboys making a trade (Cowboys Daily).
Is Taj Gibson close to an extension in Chicago (Mike and McGourty).
Don't blame Yoko Ono (The Shadow League).
LaGuardia Airport remains closed (CNN).
Olympic Stadium is a possible location for NFL in London (Pro Football Talk).
Romney refuses to talk about FEMA after Hurricane Sandy (Huff Post).
Teacher refers to African-American student as "slave" (Mercury News).
6.2 million are still without power (CNN).
What else did you expect today???