(AP)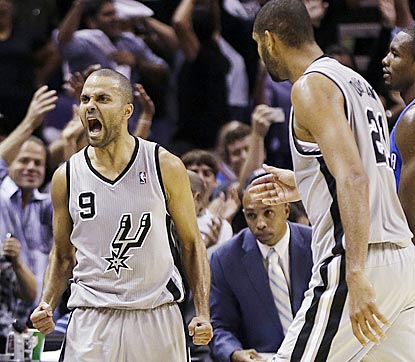 Tony Parker's late game heroics were just what the Spurs needed.
Tony Parker shook off a poor shooting night to sink a 21-footer as time expired to give the Spurs a 86-84 victory over the Oklahoma City Thunder. The meeting was their first since last season's Western Conference Finals. Parker finished with 14 points and 11 assists.
Tim Duncan continued his hot start. Duncan led the Spurs with 20 points and 8 rebounds in 34 minutes of play. The Spurs had five players in double figures. Stephen Jackson led all San Antonio reserves with 11 points.
Kevin Durant is usually the player firing last-second daggers. Last night, he was on the receiving end. Durant led all scorers with 23 points, he also pulled down 14 rebounds and handed out 5 assists. Russell Westbrook — who got to Parker late on the game's final play finished with 18 points, 8 boards and 5 assists. Newly acquired Kevin Martin led the Thunder bench with 15 points and 5 assists in 33 minutes of action.