(AP)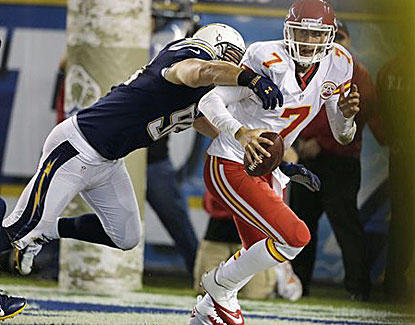 Matt Cassell's fumble in the end zone resulted in a Chargers touchdown.
The San Diego Chargers snapped a three-game losing streak with a 31-13 blowout of the Kansas City Chiefs.
(AP)
Chargers receiver Seyi Ajirotutu lays out for a pass in front of Chiefs safety Eric Berry.
Phillip Rivers was 18 for 20 for 220 yards and two touchdowns as the San Diego Chargers (4-4) defeated the Kansas City Chiefs (1-7) 31-13.
Ryan Matthews rushed for 67 yards on 13 carries. Malcolm Floyd and Antonio Gates each caught touchdown passes for the Chargers.
Matt Cassell 18 for 29 for 181 yards. Cassell threw and interception and was responsible for a fumble that resulted in a score. Dwayne Bowe had 8 receptions for 79 yards. Jamaal Charles rushed for 39 yards on 12 carries before leaving the game with a head injury.