(Getty Images)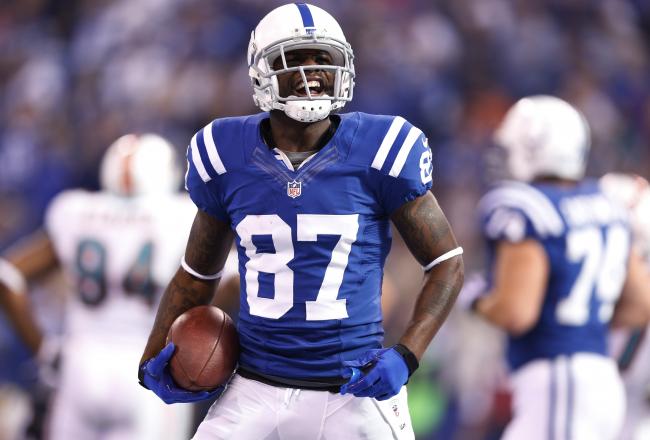 Putting up career numbers this season has given Reggie Wayne a reason to shout.
The Indianapolis Colts are a driven group of men. Inspired by their head coach Chuck Pagano — who began his second phase of chemotherapy this week for a rare form of Leukemia.
For the fourth consecutive game the Jacksonville Jaguars have been without their best player in Maurice Jones-Drew. A packed EverBank Field would serve as motivation to snap a five-game losing streak.
Andrew Luck is having the kind of season that alters the fortunes of a franchise. The number one overall pick has played up to his billing and has done little, if anything to disappoint. Luck has taken advantage of a solid running game to open up the Colts passing attack. He has thrown only one interception in his last three games after throwing seven picks in his first five.
The Colts offense ranks 4th in the league at 390 yards per game, a colossal jump from last season when they were 30th (286 ypg.).
Blaine Gabbert is enduring the growing pains that Luck has yet to experience. Gabbert has a 78.4 passer rating to go with 9 touchdowns in his second season. The loss of Maurice Jones-Drew has hurt the Jaguars offense which is last in total offense (254 ypg.) and points (14.6). The Jags can hang their hat on Gabbert's 3-0 record against the Colts, including a comeback victory in Week 3.
With both defensive units allowing over 350 yards per contest, we could be in for a better game than advertised.
Prediction: Colts 24 – Jaguars 20