(Scott Halleran/Getty Images)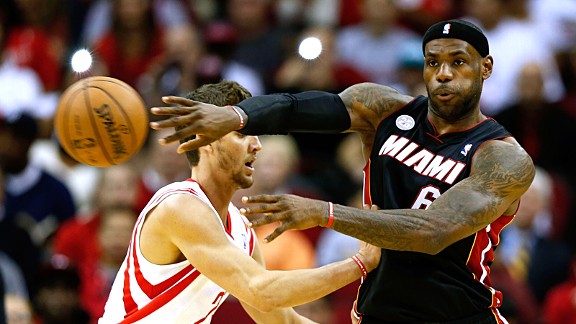 Breathe easy young fella.
LeBron James shook off a pedestrian first half to give an all-world second half performance. James scored 32 of his game high 38 points in the second half as the Miami Heat defeated the Houston Rockets 113-110.
Here's a recap of last night's action.
Bucks 105 – 76ers 96 – Brandon Jennings led all scorers with 33 points. He also handed out 8 assists. Jrue Holiday led the Sixers with 25 points and 6 assists.
Jazz 140 – Raptors 133 (3 ot) – Al Jefferson finished with 24 points and 17 boards for the Jazz. Paul Milsap chipped in with 34. Mo Williams led the Jazz with 14 assists. Toronto's DeMar DeRozan led all scorers with 37 points. Jose Calderon scored 20 points and led all players with 17 assists.
Thunder 92 – Pistons 90 – Russell Westbrook led all scorers with 33 points. Westbrook also finished with 10 assists. Rodney Stuckey led the Pistons with 19 points.
Celtics 101 – Bulls 95 – Rajon Rondo just missed a triple-double with 20 points 9 rebounds and 10 assists. Luol Deng led the Bulls with 26 points and 11 boards.
Heat 113 – Rockets 110 – Dwyane Wade led the Heat with 7 assists. Omer Asik led the Rockets with 19 points and 14 boards.
Timberwolves 90 – Mavs 82 – Andrei Kirilenko paced the Wolves with 16 points and 11 rebounds. Nikola Pekovic led the Wolves with 20 points. Darren Collison led the Mavs with 21 points.
Suns 110 – Nuggets 100 – Andre Iguodala led the Nuggets with 17 points. Kenneth Faried pulled down 11 rebounds. Goran Dragic led the Suns with 21 points and 7 assists.
Hawks 95 – Trailblazers 87 – Josh Smith of the Hawks was tied for the scoring lead with 19 points to go with 11 rebounds. J.J. Hickson had 19 points and 18 boards for the Trailblazers.
The Lineup:
Work underway to exhume the body of Yasser Arafat (CNN). 
Randy Wittman wants more from the Wizards (Washington Times).
Rockets sending Royce White to the D-League (Mike and McGoutry).
Derrick Rose begins cutting on knee (Hoops World).
Jason Garrett won't bother Tony Romo (Pro Football Talk).
Temple Owls open basketball season at Kent State (Philly.com).
Reggie Bush is not in trouble (ESPN).
See what a Jamaican hot pepper does (NBA Source).
DeMarcus Cousins suspended for two games (Blazers Fans).
Abu Qatada released from prison (CNN).
Ol' Otis ain't been down since '69!