(Jeff Gross/Getty Images)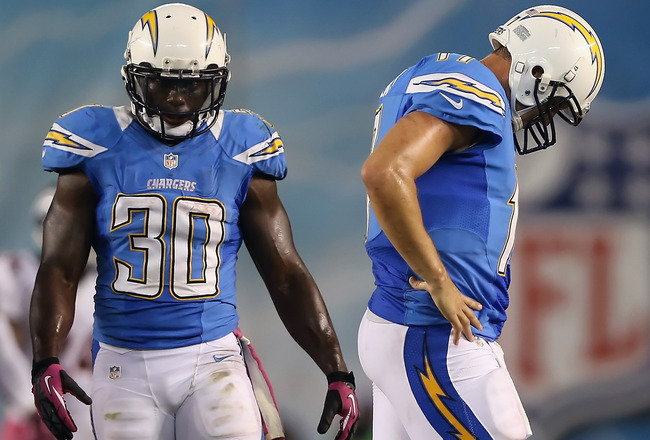 Phillip Rivers and the Chargers are one of the many unpleasant surprises this season.
The 2012 season has not turned out as expected in cities like Dallas, Detroit, New York, Philadelphia and San Diego. Despite the dead-on-arrival appearance of these teams, a faint pulse is still present. The topsy-turvy NFL season will provide hope for fans who are not ready to pull the plug on their team.
Byes: Giants, Seahawks, Titans and Vikings.
If Suh gets loose, Aaron Rodgers could end up like this guy.
November 18, 2012: Games beginning at 1:00 pm:
Green Bay Packers (6-3) at Detroit Lions (4-5) – The battles within the NFC North are a precursor to the playoffs.
Packers 34 – Lions 20
Arizona Cardinals (4-5) at Atlanta Falcons (8-1) – The Cardinals have dropped five in a row with no landing in sight.
Falcons 29 – Cardinals 13
Tampa Bay Buccaneers (5-4) at Carolina Panthers (2-7) – If the Bucs are going to make the playoffs they will need to win this road game. The Panthers have played well instead of tanking it.
Bucs 24 – Panthers 21
Cleveland Browns (2-7) at Dallas Cowboys (4-5) – Tony Romo didn't need to save the Cowboys last week in Philly. So do we see a more prepared Romo or a rusty facsimile.
Cowboys 20 – Browns 16
Nick Foles' first NFL start is against the hated Redskins.
Philadelphia Eagles (3-6) at Washington Redskins (3-6) – Keep an eye on the number of running plays Andy Reid employs on Sunday. RG3 might shred this uninspired defense.
Redskins 24 – Eagles 13
NY Jets (3-5) at St. Louis Rams (3-5-1) – The Jets falling apart was the worst kept secret heading into this season. The Rams are feeling good about themselves after standing up to the 49ers last week.
Rams 23 – Jets 10
Cincinnati Bengals (4-5) at Kansas City Chiefs (1-8) – Andy Dalton is warming up at just the right time.
Bengals 31 – Chiefs 13
Jacksonville Jaguars (1-8) at Houston Texans (8-1) – C'mon man.
Games beginning at 4:00 pm or later:
The Saints have to be careful heading into Oakland this week.
New Orleans Saints (4-5) at Oakland Raiders (3-6) – This will be a wide open game. First team to 33 wins.
Saints 37 – Raiders 30
San Diego Chargers (4-5) at Denver Broncos (6-3) – The Chargers have not been the same since their first meeting against the Broncos. They'll be even worse after Sunday.
Broncos 28 – Chargers 20
Indianapolis Colts (6-3) at New England Patriots (6-3) – Andrew Luck is looking down the barrell of a loaded gun. He will not blink.
Patriots 27 – Colts 23
Baltimore Ravens (7-2) at Pittsburgh Steelers (6-3) – I have to dig out my old football gear to avoid injury watching these two.
Steelers 21 – Ravens 19
Monday November 19, 2012, 8:30 pm:
Chicago Bears (7-2) at San Francisco 49ers (6-3) – Expect Matt Forte to have a big night for the Bears — who will emerge as the team to beat in the NFC.
Bears 20 – 49ers 16
Last Week 7-6-1
2012 Season 87-58-1