(SB Nation)
I don't think we'll be hearing anymore Raymond Felton fat jokes in the near future.
If you thought the Knicks 5-0 start was a fluke, take a look at last night's game against the San Antonio Spurs. The Knicks moved to an NBA best 6-0 behind a gutty performance from Raymond Felton.
In Thursday night football action, the Buffalo Bills defeated the Miami Dolphins 19-14.
Nets 102 – Celtics 97 – Brook Lopez scored 24 points and forward Kris Humpries grabbed 13 boards for the Nets. Paul Pierce led the Celtics with 22 points. Rajon Rondo sat out the game with an ankle injury.
Knicks 104 – Spurs 100 – Raymond Felton led the Knicks charge with 25 points an 7 assists. Tony Parker finished with 19 points and 12 assists to lead the Spurs. The Knicks won in San Antonio for the first time since 2003.
Heat 98 – Nuggets 93 – The Heat were without Dwyane Wade because of a foot injury. LeBron James led all scorers with 27 points 7 rebounds and 12 assists. Kenneth Faried led all players with 20 boards. Andre Miller led the Nuggets in scoring with 19.
(Associated Press)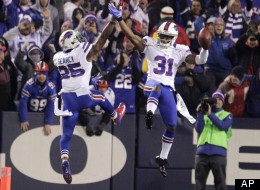 Bryan Scott's pick killed the Dolphins comeback attempt.
The Bills offense did not score a point in last night's 19-14 victory over the Miami Dolphins. Leodis McKelvin returned a punt for a touchdown and placekicker Ryan Lindell booted four field goals. A late rally by the Dolphins was wiped out when Ryan Tannehill threw an interception. The Bills defensive unit gave a surprising effort allowing just 14 points in comparison to their season average of nearly 32 points per game.
The Lineup:
What! No more Twinkies (Chicago Sun-Times).
Never heard the John Lucas' story, read it here (The Shadow League).
Big decisions are ahead for the NY Jets owner (Newsday).
Bulls building practice facility next to the United Center (Chicago Sun-Times).
What is John McCain doing (The Grio).
Five teams that could use Kenyon Martin (Mike and McGoutry).
Woody Paige on Tim Tebow (Woody Paige).
Serena Williams on Common's new girl (In Flex We Trust).
Chamique Holdsclaw arrested in a domestic dispute (Yahoo).
Two Croatians acquitted of war crimes (CNN).
Him downstairs.