(NY Post)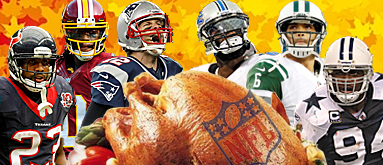 I've awakened from my Tryotphan-induced sleep to recap yesterday's NFL action.
If Jim Schwartz had waited, dinner would've tasted a little better yesterday.
A decision to challenge a reviewable play by Detroit Lions head coach Jim Schwartz shifted the momentum of a contest his team has under control. The Texans would rally and play their second overtime game in as many weeks, defeating the Lions 34-31.
RG3 and the Redskins are going to be a problem in the NFC East.
Robert Griffin III passed for four more touchdown passes as the Washington Redskins broke a 6-game losing streak against the Cowboys on Thanksgiving Day. The Redskins stunned the Cowboys 38-31.
The Jets folly of errors made Thanksgiving dinner hard to digest for the NY faithful.
The NY Jets were in a giving mood last night while the Patriots capitalized on turnover after turnover. The Patriots scored 35 points in the second quarter on their way to blowing out the Jets 49-19.
The Lineup:
Assasin's Creed bundle $199 for PS3 (Playstation).
Wu-Tang's GZA drops science (The Real GZA).
Cardinals David Freese escapes serious injury in accident (CBS Sports).
The stench of mediocrity is reeking in Dallas (ESPN).
Flu shot myths debunked (The Star).
The MoKnozSports Daily is out (Paper Li).
Spike Lee's documentary 'Bad25' (In Flex We Trust).
Jeff Green preparing to face former teams (NBA Pro Talk).
Another Nike release (Nike Blog).
Matt Flynn says he's happy in Seattle (Black Sports Online).
Andre 3000