(Washington Post)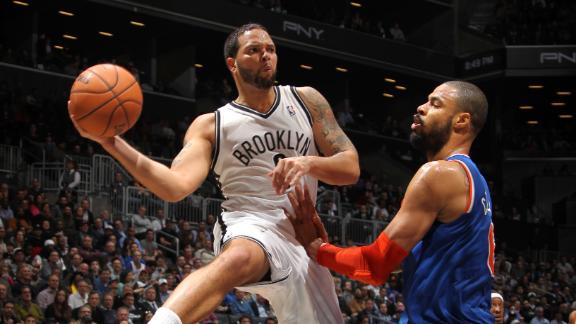 Deron Williams looks to pass around the Knicks' Tyson Chandler for one of his fourteen assists.
The inaugural meeting between the New York Knicks and the Brooklyn Nets was postponed due to Hurricane Sandy. Last night, the much-anticipated maiden voyage in the city rivalry was underway. The Nets needed an extra period to give the Knicks their third loss four games with a 96-89 victory.
The Bucks were all but done in the Windy City, trailing by as many as 27. The Bucks were able to outscore the Bulls 30-12 in the final period to stun the hosts 93-92.
Nets 96 – Knicks 89 – Deron Williams led the Nets with 16 points and 14 assists. Carmelo Anthony dropped 35 for the Knicks. Tyson Chander finished with 28 points and 10 boards.
Spurs 118 – Wizards 92 – The Wizards dropped their 12th consecutive game. The Wizards were led by Jordan Howard with 19 points. Boris Diaw led the Spurs with 16 points. Tiago Splitter finished 15 points and 12 boards for the victorious Spurs.
Pistons 101 – Blazers 98 – The Pistons were led by Brandon Knight's 26 points. Greg Monroe finished with 20 points and 10 rebounds. LaMarcus Aldridge led the Blazers and all scorers with 32 points.
Bucks 93 – Bulls 92 – Ersan Ilyasova led the Bucks with 18 points. Rip Hamilton led the Bulls scoring with 30 points.
Grizzlies 84 – Cavs 78 – Anderson Varejao led the Cavs with 15 points and 22 rebounds. Zach Randolph had 19 points and 8 boards to lead Memphis.
Thunder 114 – Bobcats 69 – Kevin Durant finished with 18 points and 4 blocks. Jeff  Taylor led the Bobcats scoring with 10 points.
Jazz 105 – Nuggets 103 (no video) – Nuggets forward Kenneth Faried finished with 21 points and 9 boards. Al Jefferson led the Jazz with 28 and 5.
Hornets 105 – Clippers 98 – Blake Griffin was held to a season-low four points. Caron Butler hit 9 three-pointers on his way to 33 points to lead LA's scoring. New Orleans' Grievis Vasquez led the finished with 25 points and 10 assists.
The Lineup:
LeBron James is falling in love with the three pointer again (Mike and McGoutry Show).
Here's the weather forecast for your area (CNN).
Losing is wearing on Jerry Jones (Dallas Cowboys Daily).
Rockets Patterson gets flopping warning, you judge (NBA.com).
College football wrap up (Jay Graves Report).
Kid gets trucked in Pee Wee League game (In Flex We Trust).
Here are some Fantasy Football waiver wire picks (Sport News).
NBA rookie watch (Mike and McGoutry Show).
Can we record police officers (CS Monitor).
Bucs corner Eric Wright suspended for violating banned substance policy (Reuters).
Ladies and Gentlemen, Paul Mooney.