(ESPN)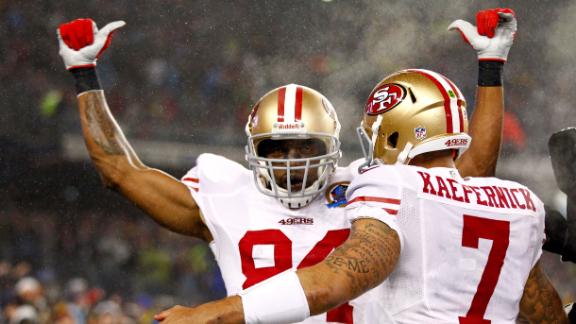 After scoring, Randy Moss made sure those in Foxboro remembered his name.
The San Francisco 49ers and Denver Broncos went into hostile environments and came away with impressive victories against the Baltimore Ravens and New England Patriots, respectively. Meanwhile in Atlanta, the Falcons have just about had it with the talk of them not being tough enough. Yesterday, they took their frustration out on the Super Bowl Champion New York Giants, shutting them out 34-0.
The drubbing at the hands of the Falcons dropped the Giants into a three-way tie with the Washington Redskins and Dallas Cowboys — who both won yesterday.
Packers 21 – Bears 13 – James Jones is following a path that has led to stardom for Donald Driver and Greg Jennings.
Texans 29 – Colts 17 – I believe the Colts will bounce back an avenge this loss in two weeks.
Broncos 34 – Ravens 17 – Joe Flacco has failed this team in its most dire moment.
Dolphins 24 – Jaguars 3 – The 'Phins are looking to finish on a strong note.
Redskins 38 – Browns 21 – How can you not believe in this team now. Cousins threw with great precision yesterday.
Vikings 36 – Rams 22 – None of us can say enough about Adrian Peterson.
Saints 41 – Buccanneers 0 – The Bucs were nowhere to be found yesterday.
Falcons 34 – Giants 0 – Very surprised the Giants were handled so easily.
Seahawks 50 -Bills 17 – No one wants to see this team come January.
Panthers 31 – Chargers 7 – Another step in the right direction for Cam Newton.
Cardinals 38 – Lions 10 – I guess there is a football team in Arizona.
Raiders 15 – Chiefs 0 – It would be nice to get a look at Terrelle Pryor.
Cowboys 27 – Steelers 24 – The Steelers rarely lose late season games like this. Dallas is beginning to peak at the right time.
49ers 41 – Patriots 34 – The Niners defense was playing at a Super Bowl level in the first half.
Tonight: Jets at Titans 8:30 pm