(Jonathan Daniel/Getty Images)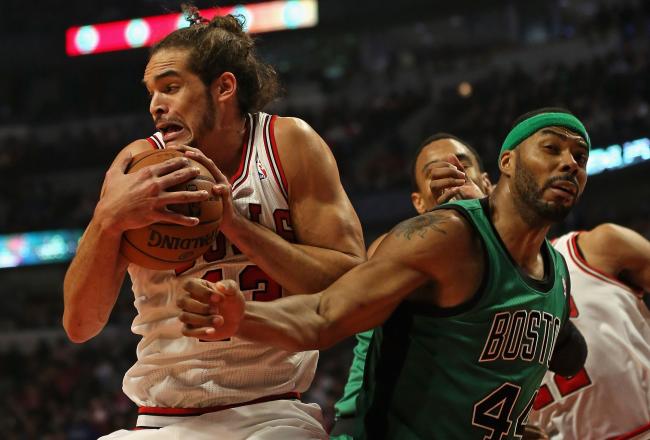 Joakim Noah's breakout season may include an All-Star appearance.
The Chicago Bulls are adjusting to life without point guard Derrick Rose the best way they know how. In his absence, teammates have stepped their game up and the Bulls are the top team in the NBA's Central Division. Joakim Noah literally stands in the middle of the Bulls success. Last night, the energetic center posted his first career triple-double in Chicago's victory over Boston.
The case is the same for the Washington Wizards who may be without their star point guard John Wall for the remainder of the season. The results have not been as favorable, but coach Randy Wittman may have uncovered a gem in third year shooting guard Jordan Crawford. In the Wizards loss to the Atlanta Hawks, Crawford notched his second career triple-double.
Hawks 100 – Wizards 95 – Lou Williams led the Hawks with a season-high 24 points and Josh Smith grabbed 13 boards. Jordan Crawford led the Wizards with 27 points, 11 rebounds and 11 assists.
Raptors 113 – Cavs 99 – Jose Calderon led Toronto with 23 points and 6 assists. The Raptors are winners of their last three games. Cleveland dropped their fourth game in a row. Kyrie Irving led the Cavs with 23 points.
Jazz 92 – Nets 90 – Mo Williams led Utah with 19 points and 6 assists. Joe Johnson led the Nets with 21 points.
Heat 103 – Timberwolves 92 – Dwyane Wade led the Heat with 24 points. Lebron James added 6 rebounds and 11 assists. Kevin Love led all players with 18 rebounds. 
Bulls 100 – Celtics 89 – Joakim Noah had 11 points, 13 rebounds and 10 assists for Chicago. Rajon Rondo led all scorers with 26 points.
Bucks 98 – Pacers 93 – Brandon Jennings of the Bucks led all scorers with 34 points. George Hill led the Pacers with 18 points.
Mavs 107 – 76ers 100 – O.J. Mayo led the Mavericks with 28 points and 8 assists. The 76ers — who have lost four straight were led by Dorrell Wright's 25 points.
Nuggets 112 – Spurs 106 – Danilo Galinari led the victorious Nuggets with 28 points. The Spurs wasted a great effort by Tim Duncan who finished with 31 points and 18 rebounds.
Lakers 101 – Bobcats 100 – Kobe Bryant led all scorers with 30 points and 7 assists. Dwight Howard grabbed 18 boards for the Lakers. Kemba Walker led Charlotte with 28 points and 7 assists.
Warriors 103 – Hornets 96 – David Lee led the Warriors with 26 points and 9 boards. Ryan Anderson led the Hornets with 28 points. Anthony Davis led all players with 16 rebounds.
The Lineup:
Part II of Michael Tillery's interview with Pete Rock (The Shadow League).
LeBron James bikes to work (Fox Sports Florida).
Amazonian Spider builds decoy spiders (Wired).
168 children killed in drone strikes since the start of the campaign (Jasiri X).
Rex Ryan's reasons for bypassing Tim Tebow (In Flex We Trust).
Vote for NFL Play of the Year (NFL).
Facebook responds to InstaGram charges (NY Times).
Sports Brothers name their NFL ROY (Sports Brothers).
Victor Cruz visits family of six-year old Sandy Hook victim (USA Today).
Al Sharpton on Sandy Hook tragedy (Norm Bond).
A Fat Albert Christmas Parts 1-3.