(Jared Wickerman/Getty Images)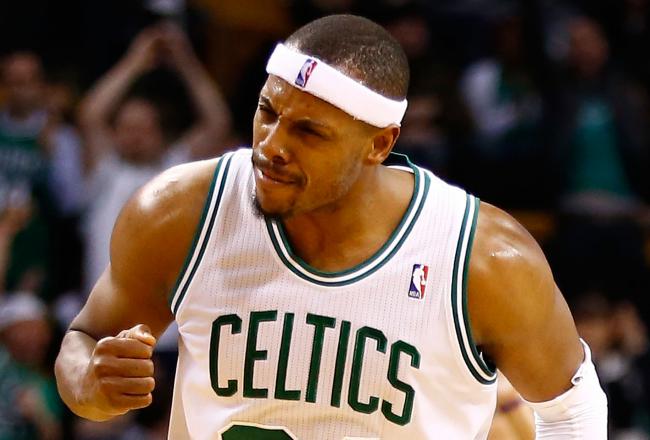 "The Truth" still hurts.
We've seen a noticeable decline in Paul Pierce due to age and injuries in recent seasons. Last night Pierce took us back to a time when "The Truth" mattered scoring a season-high 40 points and grabbed 8 rebounds as the Boston Celtics pounded the Cleveland Cavaliers 103-93.
The Brooklyn Nets dropped their second game to the New York Knicks in as many weeks with a 100-86 defeat. The loss was the Nets eighth in their last ten games.
Raptors 97 – Pistons 91 – The Raptors committed only six turnovers. DeMar DeRozan led Toronto with 23 points and Jose Calderon handed out 17 dimes. Greg Monroe led the PIstons with 35 points and 10 rebounds.
Knicks 100 – Nets 86 – The Knicks held the Nets to 38 second half points. Carmelo Anthony led the Knicks with 31 points. Joe Johson led the Nets with 17 points.

Orlando 90 – Wizards 83 – J.J. Redick led the Magic with 17 points. Nene led the Wizards with 20 points.
Pacers 104 – Jazz 84 –  Indiana's Gerald Green led all scorers with 21 points. Derric]k Favors led Utah with 17 points.

Celtics 103 – Cavs 91 – Rajon Rondo added 20 points for the C's. Kyrie Irving led the Cavaliers with 22 points.
Thunder 100 – Hawks 92 – Kevin Durant finished with 41 points and 13 boards for OKC — who won their 12th game in a row. Jeff Teague led the Hawks with 19 points and 9 assists.
Rockets 125 – 76ers 103 – The Rockets scored 33 or more points in every quarter but one as they blew out the Sixers. James Harden led the Rockets with 33 points. Thaddeus Young led Philly with 21 points
Suns 121 – Bobcats 104 – Shannon Brown led the Suns with 26 points. Kemba Walker had 27 points and 6 assists for the Bobcats.

Grizzlies 90 – Bucks 80 – Zach Randolph had 15 points and 17 boards to lead the Grizzlies. Brandon Jennings led the Bucks with 26 points.
Kings 131 – Warriors 127 – DeMarcus Cousins led the Kings with 24 points. Golden States Steph Curry led all scorers with 32 points.
Clippers 93 – Hornets 77 – Blake Griffin scored 18 points and Chris Paul handed out 12 assists for the Clippers. Paul also handed out his 5,000 assist last night. Robin Lopez grabbed 22 points and 9 rebounds for New Orleans.
The Lineup:
The Dallas  Cowboys rely heavily on their subs (Sports Nation).
What is your favorite Dime Mag cover (Dime Magazine).
New Era to commemorate Yankees 100th Anniversary (In Flex We Trust).
Hope it helps (Forbes Magazine).
Is Mark Sanchez on the trade block (Wild Thing Football).
Bikini Basketball League (Dime Magazine).
The Senate is targeting first person shooter games (In Flex We Trust).
Scary (In Flex We Trust).
Was one of the youngest people ever executed innocent (The Grio).
Drew Brees believes Sean Payton will return to the Saints (Sideline Pass).
Mom's cookin' chicken and collard greens.