(ESPN)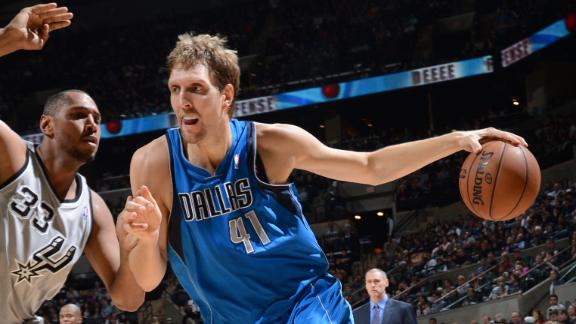 The Mavericks with Dirk and O.J. Mayo should be a tough matchup as the season goes on.
After missing the first 27 games, former MVP Dirk Nowitzki returned to the the Dallas Mavericks lineup for the first time this season last night. The Mavericks sharpshooter scored 8 points and grabbed six boards in about 20 minutes of action. In the end, it was the San Antonio Spurs feasting on 20 three-point field goals in a 129-91 victory.
Nets 95 – 76ers 92 – The Sixers continue to struggle with Jrue Holiday (24 pts. and 9 assists) back in the lineup. Joe Johnson led the Nets with 22 points.
Knicks 94 – Timberwolves 91 – Carmelo Anthony led the Knicks with 33 points. The underrated Nickola Pekovic led Minnesota with 21 points and 17 boards. 
Jazz 97 – Magic 93 – Paul Milsap scored 18 points and Al Jefferson grabbed 9 rebounds for the Jazz. Aaron Afflalo led the Magic with 20 points. Nick Vucevic led all players with 16 rebounds.
Spurs 129 – Mavericks 91 – Danny Green scored a career-high 25 points. Darren Collison led the Mavericks with 15 points.
The Lineup:
Fab Melo not ready just yet (Hoops World).
Jerry Jones faced with questions again (Cowboys Daily).
Tebow opted out of Wildcat options after McElroy was named starter (ESPN).
Check out the Jay Graves Report (Jay Graves Report).
Latest NBA trade rumors (Mike and McGoutry).
Michael Vick says he's not a backup (Wild Thing Football).
Mitt Romney's son comes clean (In Flex We Trust).
Chiefs and Jags hold first two draft picks (Pro Football Talk).
Dental Assistant fired for her good looks (In Flex We Trust).
George W. Bush's letter of resignation from the NRA (Daily KOS).
One of the best by The Temptations