(ESPN.com)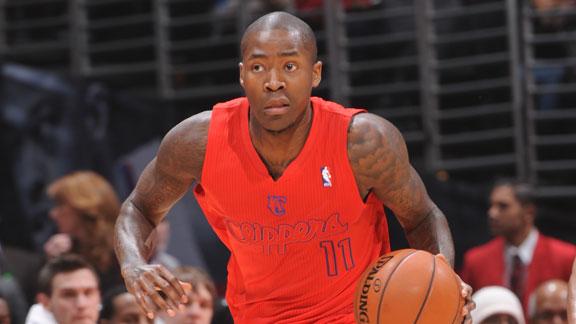 Jamal Crawford unwrapped his share of ankles in last night's victory.
After the gifts, dinner, dessert and laughs, the Los Angeles Clippers treated those who were able stay up to a late night high-wire show. The Clippers twisted, twirled and dunked their way to a 112-100 victory over the visiting Denver Nuggets.
Celtics 93 – Nets 76 – The Nets offensive woes continued as they struggled from the floor and the line. Twenty turnovers didn't help either. Rajon Rondo led the Celtics with 19 points and Kevin Garnett grabbed 10 boards. Gerald Wallace led the Nets with 19 points.
Lakers 100 – Knicks 94 – The Lakers used a late rally and Dwight Howard made two clutch free throws to hold off the Knicks. Carmelo Anthony led the Knicks with 34 points. Kobe Bryant led the Lakers with 34 points.
Heat 103 – Thunder 97 – The Thunder survived a first quarter surge by the Heat to make it a competitive contest. LeBron James led the Heat with 29 points, 8 rebounds and 9 assists. Kevin Durant led all scorers with 33 points. 
Rockets 120 – Bulls 97 – James Harden scored 26 points and Omer Asik grabbed 18 rebounds against his former team as the Rockets blew out the Bulls. Nate Robinson led the Bulls with 27 points.
Clippers 112 – Nuggets 100 – The Nuggets shot 50 percent from the floor, but only 23 percent from beyond the arc. Kosta Koufos led the Nuggets with 16 points and 10 boards. Jamal Crawford led the Clippers with 22 points.
The Lineup:
Kevin Hart's Christmas (In Flex We Trust).
Franchise-altering week coming up in Philly (Sheil Kapadia).
Vick's last start in Philly Sunday (Tim McManus).
Ricky Rubio (USA Today).
California to sound alarm on straying seniors (Sacramento Daily).
Christmas edition of the Jordan XX8 (Nike Blog).
Don't bring in The Tuna, it already stinks (NFL.com).
Jay Electronica goes at 50 Cent (In Flex We Trust).
The silencing of haters (Jay Graves Report).
Hurricane Sandy hero drowns in Mexico (In Flex We Trust).
Happy Kwanzaa!