(ESPN)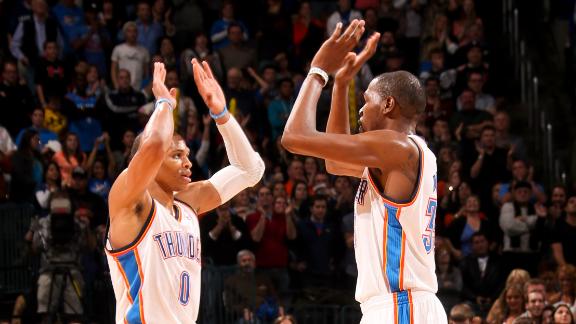 OKC's dynamic duo has combined for 117 points in their last two games
The Oklahoma City Thunder got more than they expected from a game Dallas Mavericks squad. The Thunder gave up big first and third quarters to the visitors. OKC was to prevail in overtime 111-105.
It looks like the Los Angeles Clippers are doing their best to put the Pacific Division out of reach as soon as possible. Last night, the Boston Celtics found out these are not the same ol' Clippers. The hosts crushed the Celtics 106-77.
Thunder 111 – Mavs 105 – Mavs point guard Darren Collison scored three of his 32 points on a fall away jumper to send the game into overtime. Kevin Durant went scoreless in the extra period, but led all scorers with 40 points. Russell Westbrook scored 8 of his 16 points in overtime for OKC.
Clippers 106 – 77 – The Clippers took advantage of 18 turnovers by the Celtics to cruise to an easy win. Boston scored only ten fourth quarter points. Matt Barnes led the Clippers with 21 points and Lamar Odom grabbed 13 rebounds for Los Angeles. Kevin Garnett led the Celtics with 16 points.
The Lineup:
Friday's edition of the Jay Graves Report (The Jay Graves Report).
Top NCAA hoops performances (Basketball Reference).
Mark Sanchez to start in Week 16 (In Flex We Trust).
The result of bad parenting (The Root).
Pregnant woman gives birth before dying after car crash (In Flex We Trust).
Don't answer the phone Phil (Hoops Hype).
NBA's biggest winners and losers of 2012 (Mike and McGoutry).
Things are looking good in Seattle (Seahawks Daily).
Honus Wagner refereed all Black basketball games back in the 1910's (Black Fives).
Nike 2k4 Zoom (In Flex We Trust).
Have an extended weekend on me!