(Rob Carr/Getty Images)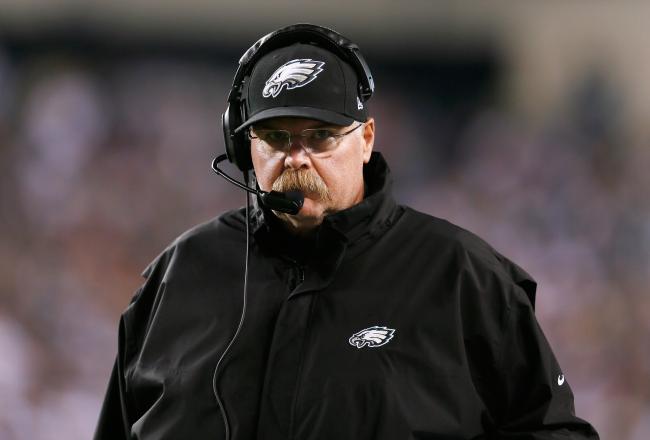 After weeks of speculation, (and anticipation) Andy Reid has been fired.
Andy Reid's fourteen-year tenure as coach of the Philadelphia Eagles came to an end nearly two hours after the Birds were thumped by the New York Giants 42-7 in their season finale.
Reid was a great coach, but the time has come for everyone to move on.
Jeffrey Lurie wasted no time in turning the page.
Reuben Frank of Comcast SportsNet in Philadelphia has confirmed Andy Reid will not return as head coach of the Philadelphia Eagles next season. NFL.com's Ian Rapoport reported Reid was informed in a Friday meeting with Eagles owner Jeffrey Lurie he would be relieved of his duties after today's game against the New York Giants.
Poor drafting, questionable decision-making involving player acquisitions and the coaching staff became the undoing of Reid in Philly. In result has been a record of 12-20 over the last two seasons. Unacceptable when you consider the amount of money dished out to put the Eagles team in prime position to win immediately.
Reid trails only Connie Mack as the longest tenured coach in Philadelphia sports history. Reid posted a regular season record of 130-92-1. He led the Eagles to five NFC Championship Games and a Super Bowl appearance in 2004.
A formal announcement has been set for a noon press conference tomorrow.