(Getty Images)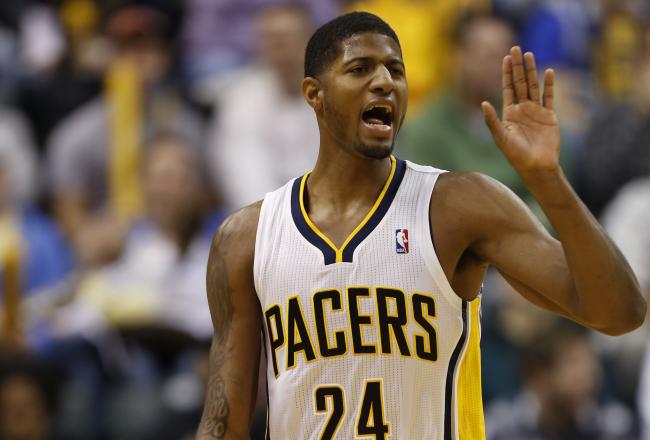 Paul George's flashes of talent have come into full view this season.
There is no timetable on the return of Indiana Pacers All-Star forward Danny Granger  — who has been out with a knee injury. Paul George has been a player looking to make a breakthrough for the last two seasons. It looks like the time has come for George who has taken over the scoring responsibility for the Pacers. Indiana was able to hold off the Miami Heat 87-77. It was the first meeting between the two teams since their physical playoff encounter last season.
Brooklyn 109 – 76ers 89 – Nets forward Andray Blatche looks to be cleared of any wrongdoing in the sexual assault incident in a Philadelphia hotel Tuesday morning. Deron Williams scored a game-high 22 points. Reggie Evans led all players with 23 boards. Jrue Holiday had 19 points and 8 assists for the 76ers.
Pacers 87 – Heat 77 – Paul George led the Pacers with 29 points and 11 rebounds. Roy Hibbert grabbed a game-high 14 rebounds. Dwyane Wade all scorers with 30 points. LeBron James finished with 10 boards.
Bucks 108 – Suns 99 – Brandon Jennings led all players with 29 points and 8 assists. Goran Dragic scored 21 points for the Suns.
Rockets 125 – Lakers 112- The Lakers dropped their fourth straight game as the Rockets pulled off their fifth consecutive victory. Steve Nash recorded his 10,000th assist in a losing effort. James Harden led the Rockets with 31 points, 6 boards and 9 assists. Metta World Peace led the Lakers' scoring with 24 points.
T-Wolves 108 – Hawks 103 – Nikola Pekovic stepped up in the absence of Kevin Love with 25 points and 18 boards. Ricky Rubio handed out 8 assists. Josh Smith led Atlanta with 21 points and 13 boards.
The Lineup:
RG3 prepares for surgery (Wild Thing Football).
More on Bruce Arians' illness (Pro Football Talk).
Chargers have reached out to Jim Mora (Pro Football Talk).
It might be too late for Andrew Bynum to help 76ers (Mike and McGoutry).
Sperm donor in court for child support (Huffington Post).
Greg McElroy: Jets not as dysfunctional as we think (Pro Football Talk).
Lance Armstrong is headed to Oprah (The Shadow League).
National Cathedral to perform same-sex weddings (Harry Allen).
N.J. Gov Christie on the cover of (TIME).
Serena Williams gives us a peek at her Australian Open outfit (Serena Williams).
TURN 'EM OFF!!!