(US Presswire).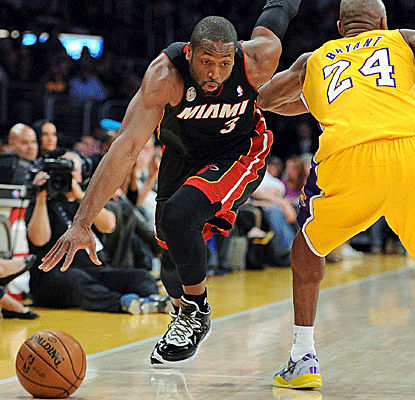 Dwyane Wade blows by Kobe Bryant for two of his 27 points.
Fresh off a milestone-filled evening in San Francisco, LeBron James and the Miami Heat traveled to Los Angeles to take on Kobe Bryant and the Lakers. Mike D'Antoni's squad literally gave the game away by committing 20 turnovers, but still managed to keep the game close. The Heat would prevail 99-90.
Knicks 102 – Pistons 87 – Carmelo Anthony returned to London, where he recieved a gold medal as a member of Team USA last summer. Point guard Iman Schumpert returned to the Knicks lineup. Anthony led New York with 26 points and Tyson Chandler grabbed 14 rebounds. Will Bynum led Detroit with 22 points in a reserve role.
Clippers 90 – T-Wolves 77 – The Clippers committed 19 turnovers without Chris Paul in the lineup and still managed to handle Minnesota. Jamal Crawford led all scorers with 22 points. Luke Ridenour led the T-Wolves with 21 points.
Bucks 98 – Suns 94 – The Bucks won for the first time in Phoenix in 26 years. Milwaukee held the Suns to 38 percent shooting. Monta Ellis led the Bucks with 24 points and 6 assists. Shannon Brown scored 20 points for Phoenix.
Heat 99 – Lakers 90 – Miami committed a game-low six turnovers. LeBron James led the Heat with 39 points, 7 rebounds and 8 assists. Kobe Bryant scored 22 points and Dwight Howard grabbed 16 rebounds for Los Angeles.
The Lineup:
Bruce Arians is looking to clean up the Arizona Cardinals (Pro Football Talk).
Deadline to keep the Kings in Sacramento is March 1st (SB Nation).
Johnny Football on Te'o (Yahoo).
Notre Dame placing a gag order on their staff (Huffington Post).
Terrorists still being sought in Algeria (CNN).
Jaguars name Gus Bradley head coach (Seahawks Daily).
Court rules risk of a relapse is a disability (Wall Street Journal).
Kobe Bryant fears one thing (In Flex We Trust).
California gun control offered as a federal model (Sacramento Daily).
Not everyone on the ND campus has Te'o's back (Huffington Post).
Have a great weekend.