(Getty Images)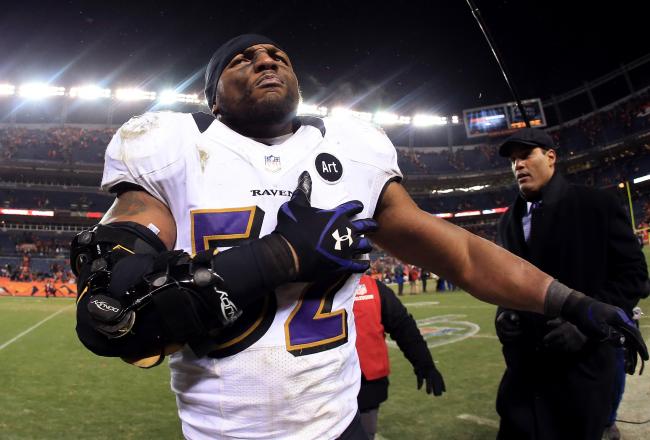 Can Ray Lewis take one, maybe two more heart-stopping moments.
The San Francisco 49ers and Atlanta Falcons shared some memorable games as members of the NFC West. Sunday, they meet again for the first time in the NFC Championship. The 49ers are headed to their 14th NFC Championship game, the Falcons are playing in their third.
The Baltimore Ravens and New England Patriots will meet in a rematch of last year's AFC Championship. Ravens kicker Billy Cundiff missed a potentially game-tying 32-yard field goal. Instead, the Patriots went on to Super Bowl XLVI. The Ravens defeated the Patriots 31-30 in Week 3 on last second field goal by Justin Tucker as time expired.
NFC Championship: Sunday January 20, 2013 3:00 pm:
Hopefully, the Falcons have done their homework on Colin Kaepernick.
San Francisco 49ers (12-4-1) at Atlanta Falcons (14-3) – The Atlanta Falcons dodged a bullet last week against the Seattle Seahawks. The Falcons blew two 20-point leads and somehow managed to escape with a 30-28 victory. The Falcons defense has struggled with versatile quarterbacks this season. Cam Newton gained over 700 yards of total offense with six touchdowns in two meetings against the Falcons. Last week, Russell Wilson passed for 385 yards, two touchdowns and an interception. Wilson also ran for 60 yards and another score.
It's clear Niners' head coach Jim Harbaugh made the right choice in going with Colin Kaepernick over Alex Smith. Kaepernick literally ran circles around the Green Bay Packers defense to the tune of 263 yards and two touchdowns. Kaepernick set an NFL record for quarterbacks with 181 rushing yards and two more scores in the Niners Divisional Round win over Green Bay. Kaepernick's running ability is just one element in what is now a very dangerous offense. Frank Gore is licking his chops as he prepares to face a soft Falcons run defense. San Francisco's receiving corps should be able to produce against an Atlanta secondary which is less physical than Green Bay's. At some point, the chemistry between Kaepernick and tight end Vernon Davis is going to happen — as if the aforementioned weapons were not enough.
Matt Ryan's trust in Roddy White and Julio Jones will be severely tested. Not only do the 49ers have the NFL's most physical secondary, it's one of the most skilled. Ryan likes to force passes into tight spots, something he may want to think twice about. The Falcons have to work the underneath patterns before taking their shots deep. Michael Turner ran hard and did not go down on first contact. He faces one of the league's best against the run in the 49ers. Tony Gonzalez always finds a way to get involved — no matter who's on the other side. Gonzalez is the key to the Falcons offensive success. As far as stopping Kaepernick and the Niners expanded run game, the Falcons lineman will have to stay in their gaps and stretch plays east to west. The Falcons held Seattle's Marshawn Lynch to 46 yards on 16 carries last week, despite poor tackling.
Prediction: The Falcons have jumped out of the frying pan and into the fire — at home no less. Atlanta has won four in a row over the Niners. San Francisco's plan is to wear this team down. Atlanta's defensive meltdown in critical moments last week at home raises a flag. The Niners pass rush of Aldon and Justin Smith is enough to force two Matt Ryan picks.
49ers 27 – Falcons 17
AFC Championship: Sunday January 20, 2013 6:30 pm:
The Ravens don't want to hear Ray Lewis speak those words again.
Baltimore Ravens (12-6) at New England Patriots (13-4) – The wild ride of the Baltimore Ravens has come full circle. Baltimore heads into New England at full strength and confident they can overcome the underdog tag for the second straight week.
The absence of tight end Rob Gronkowski leaves a hole in the Patriots offense, but the Patriots were 4-1 when he originally broke his forearm back in November. Once again the depth of the Patriots shines through with Aaron Hernandez — who had 85 receiving yards last week against the Texans. Wes Welker and Brandon Lloyd were very productive. Running backs Steven Ridley and Shane Vereen give Tom Brady options all over the field. Vereen was instrumental in the passing game, accounting for three touchdowns last week against the Texans.
The Patriots can bring pressure off the edges and up the middle — something the Broncos were unable to do last week. Vince Wilfork is capable of disrupting the Ravens rhythm by himself. Brandon Spikes and Jerod Mayo will have their eyes set on Ray Rice and will blitz when it's available. The Patriots secondary is very solid with the move of cornerback Devin McCourty to safety and the late season acquisition of corner Aqib Talib. The Pats special teams is a concern, they gave up returns of 94 and 69 yards last week.
Ravens quarterback Joe Flacco has gained confidence as the playoffs have progressed. Just when you thought the Ravens shot their offensive load, Flacco brought them back. In the most hostile of environments, the Ravens used a great offensive mix to keep the Broncos pass rush at bay. The Ravens turned several Broncos penalties into points. If there is a concern for Baltimore, it lies in the special teams game. Denver gashed Baltimore in the return game for over 200 yards.
Torrey Smith and Anquan Boldin have been outstanding this postseason. Boldin has caught anything within reach and Smith has been the deep threat who opens the door for Ray Rice to get yards in bunches. Rice rushed for over 100 yards last week. At times Rice looked like a man intent on keeping the Ray Lewis Farewell Tour going. On more than one occasion, Rice could be seen twisting and turning for additional yardage needed to move the chains.
Ray Lewis isn't just going along for the ride, he's driving the damn bus. Staring retirement in the face, Lewis is averaging 13.5 tackles in the postseason. Safety Ed Reed is faced with the task of trying to read Tom Brady's mind. Bernard Pollard brings the hammer in this underrated secondary. I don't see the Ravens taking many gambles due to the weapons at Brady's disposal. Terrell Suggs was lights out last week, getting two sacks on Peyton Manning. Defensive end Paul Kreuger was as a nightmare with pressure coming from the other side. Haloti Ngata has been solid, but he's due to make an impact play at some point.
Prediction: Tom Brady has the weapons necessary to make things tough on Baltimore, but the Ravens defense has grown more stingy as the season progressed. I don't expect big numbers similar to their meeting in Week 3. This will be a contest carefully thought out by both coaches. This one comes down to turnovers and special teams. Once again, I believe Joe Flacco's confidence will be the difference.
Ravens 22 – Patriots 20
Last Week: 2-2
2012 Playoffs 5-3