(Getty Images)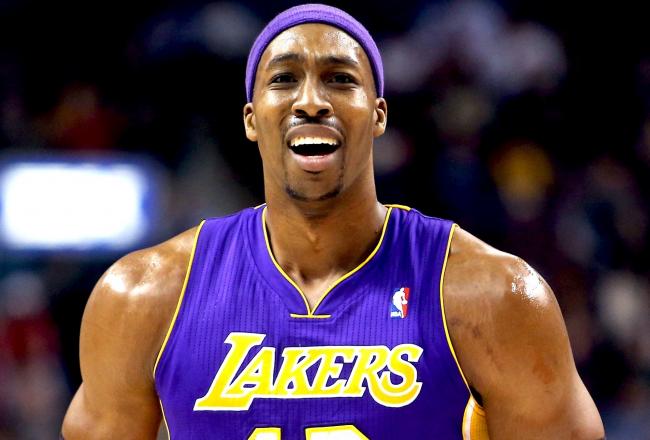 Dwight Howard's first half ejection has been a microcosm of his first season in LA.
The Los Angeles Lakers have officially hit rock bottom after the loss to the Toronto Raptors 108-103. The Lakers shot 43 percent from the field and only grabbed 37 rebounds, thanks in part to center Dwight Howard being ejected in the first half.
Raptors 108 – Lakers 103 – Jose Calderon led Toronto with 22 points and 9 assists. The Raptors shot 55 percent from the field but struggled from the free throw line, shooting 60 percent. Kobe Bryant led all scorers with 26 points.
Mavericks 111 – Magic 105 – The Mavs look like they're beginning to jell. It can be any man from one night to the next, tonight, it was Shawn Marion with 20 points and 10 rebounds. Glen Davis led the Magic with 24 points and 6 assists.
Pistons 103 – Celtics 88 – The Celtics lost their third consecutive game by 15 points or more. The Pistons held the C's to 39 percent shooting. Greg Monroe had 11 rebounds and 6 assists for Detroit. Rajon Rondo led the Celtics with a game-high 15 assists.
Nuggets 121 – Thunder 118 (overtime) – The Nuggets returned the favor to the Thunder — who snapped their six-game win streak last week. Denver won on the glass 50-38. The Nuggets placed seven players in double figures led by Corey Brewer with 26 points. Kevin Durant (37 points) and Russell Westbrook (36 points) combined for 73 points.
The Lineup:
Aaron Rodgers casts a vote for Joe Flacco among the elite (Wild Thing Football).
President Obama sworn in for a second time (The White House).
Tom Brady is pulling for Wes Welker to return (Pro Football Talk).
A look back at Hakeem Olajuwon's 50 greatest plays on his 50th birthday (NBA.com).
Rev. Jesse Jackson on Inauguration Day (CNN).
Eagles coach Chip Kelly unable to commit to a QB (Wild Thing Football).
Jets owner said Tim Tebow was forced on him (NFL.com).
Jamie Foxx goes in on Spike Lee (In Flex We Trust).
MLK's Bible (Twitter Pic).
What was the lockout about again (CBS).
A wonderful day in 2008. Congratulations once again Mr. President.