(Getty Images)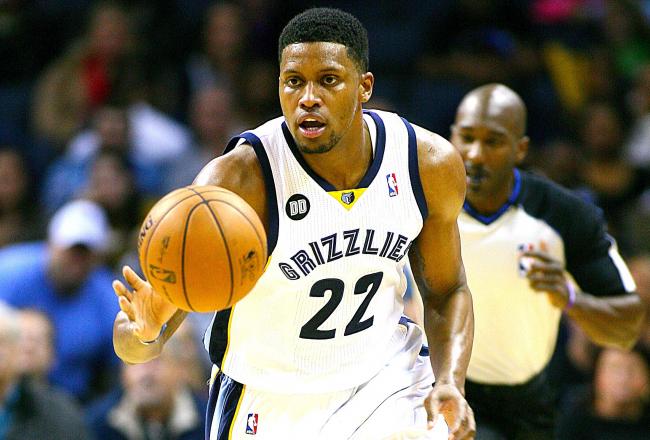 Rudy Gay gives the Raptors an All-Star talent not seen since the days of Vince Carter.
Memphis Grizzlies have traded sixth-year small forward Rudy Gay to the Toronto Raptors in a three-team deal which included the Detroit Pistons. The Grizzlies are fourth in the Western Conference, but a move like this could prove disastrous for a team looking to clear salary cap space.
The details of the trade are as follows: Memphis gets Tayshaun Prince (Det.), Ed Davis (Tor.) and Austin Daye (Det). Detroit receives Toronto point guard Jose Calderon and the Raptors acquire Memphis forward Rudy Gay and center Hamed Hadaddi.
76ers 92 – Wizards 84 – The Sixers were able to take advantage of 18 Washington turnovers. Jrue Holiday led Philadelphia with 21 points and 6 assists. Nene led the Wizards in scoring with 17 points, Emeka Okafor pulled down a game-high 17 rebounds.
Pacers 98 – Pistons 79 – The Pistons were held to 36 percent shooting by the Pacers. Roy Hibbert led Indiana with 18 points and 11 assists. Detroit was led by Greg Monroe with 18 points.
Celtics 99 – Kings 81 – Boston held the Kings to 39 percent shooting from the floor. Paul Pierce led the Celtics with 16 points and 10 assists. Tyreke Evans led Sacramento with 19 points and 11 dimes.
Knicks 113 – Magic 97 – Surprise. Tyson Chandler led the Knicks with 21 points and Carmelo Anthony added 7 rebounds. J.J. Redick scored a game-high 29 points for the Magic.
Hawks 93 – Raptors 92 – A late dunk by Al Horford sealed the win for Atlanta — who was crushed on the boards 52-36. DeMar DeRozan led Toronto with 23 points and Amir Johnson added 14 boards. Horford led the Hawks with 22 points.
Heat 105 – Nets 85 – LeBron James led the Heat with 24 points, 9 rebounds and 7 assists. Brook Lopez led the Nets with 21 points and 7 rebounds. The Heat have a 3-0 lead in the season series.
Bulls 104 – Bucks 88 – Nate Robinson led the Bulls scoring with 24 points and Luol Deng grabbed 13 rebounds. Ersa Illyasova led Milwaukee with 18 points.
Clippers 96 – T-Wolves 90 – The Clippers took a 3-0 lead in the season series. Blake Griffin led Los Angeles with 26 points and 13 rebounds. Nikola Pekovic led the T-Wolves with 17 points and 10 boards.  
Spurs 102 – Bobcats 78 – The Spurs shot 55 percent from the field. Tony Parker led San Antonio with 22 points and 7 assists. Ramon Sessions led Charlotte with 20 points.
Nuggets 118 – Rockets 110 – Danilo Gallinari led the Nuggets with 27 points. Jeremy Lin scored 22 points and handed out 5 assists for the Rockets.
Jazz 104 – Hornets 99 – Paul Milsap led Utah with 25 points and 10 rebounds. Greveis Vasquez led the Hornets with 17 points and 13 assists.  
Suns 92 – Lakers 86 – Michael Beasley led the Suns with 27 points as the Suns snapped the Lakers three-game win streak. Kobe Bryant led the Lakers with 17 points and 9 assists.
The Lineup:
Donald Driver will retire as a Green Bay Packer (Pro Football Talk).
Dan Marino had a love child with a CBS employee (CBS).
An 18-game season is still a possibility (Pro Football Talk).
China accuses New York Times of irresponsible behavior (Pro Football Talk).
Randy Moss says Titans blackballed him (Titans Report).
Derrick Rose is in full contact practice with the Bulls (A Sporting Life).
Brook Lopez named Rajon Rondo's replacement for East All-Stars (Mike and McGoutry).
Here's what happening in N'Awlins before the big game (AP).
Row over drug war follows Mexico's ex-chief to Harvard (Wall Street Journal).
Gabrielle Gifford's courageous testimony by Etan Thomas (Washington Post).
Mr. Wilson.