(Getty Images)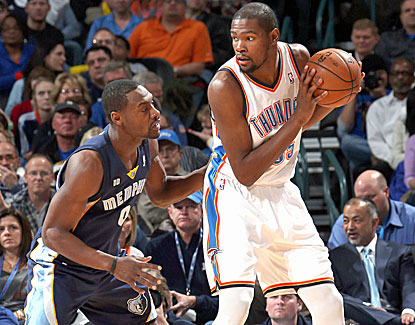 No pity for the Grizzlies from Kevin Durant and the Thunder.
A miscommunication led to Russell Westbrook eventually being benched in the Oklahoma City Thunder's 106-89 victory over the Memphis Grizzlies. The Grizzlies played in the first game without forward Rudy Gay who was traded on Wednesday.
Westbrook was called for a 5-second defensive called and sniped at Thabo Sefolosha and Kevin Durant indicating they needed to get open. Westbrook then yelled at coach Scott Brooks — which led to an early shower.
Thunder 106 – Grizzlies 89 – Kevin Durant led the Thunder with 27 points, Russell Westbrook added 9 assists. Jerryd Bayless led Memphis with 23 points and 5 assists. Zach Randolph pulled down 19 boards.
Warriors 100 – Mavericks 97 – David Lee just missed a triple-double with 15 points, 20 boards and 9 dimes. The Warriors were without Steph Curry for the second straight game with an ankle injury. Klay Thompson led all scorers with 27 points. O.J. Mayo led the Mavericks with 25 points. Shawn Marion had 17 rebounds.
The Lineup:
Randy Moss says '07 Patriots would defeat '97 Vikings (Grid Iron God).
Danny Ainge says Boston is open for trade talks (NBA News).
Eagles HC Chip Kelly appears at Wing Bowl (Philly Sports.com).
Matt Birk encourages players to donate their brains (Pro Football Talk).
Former NYC Mayor Ed Koch passes at 88 (ABC News).
Kevin Durant's top 5 dunks this season (Dime Magazine).
Raptors HC Dwayne Casey fined $25,000 for chastising refs (Mike and McGoutry).
Glen Davis could be out for the rest of the season (SI.com).
Suicide blast at American embassy in Turkey (CBS News).
Arian Foster undergoing procedure for heart (Red Zone).
One of the best by Luther!!!