(Getty Images)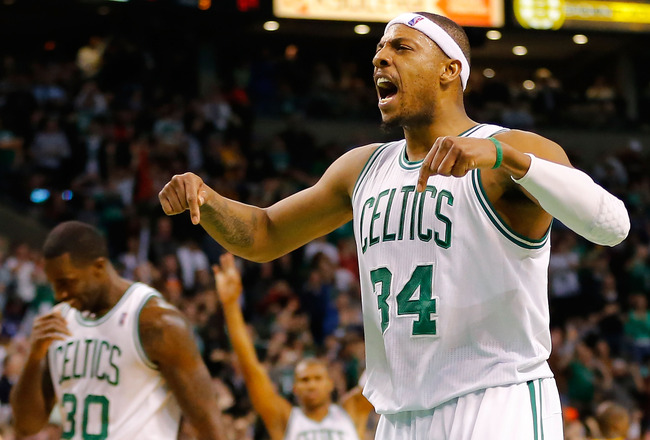 Paul Pierce made sure the Lakers didn't leave the TD Bank Garden in one piece.
So much for the Boston Celtics falling apart in the wake of Rajon Rondo's injury. The Celtics are 6-0 without their All-Star point guard. Some reports have Rondo's injury being not as severe and a return to the team this season is a possibility. Meanwhile, the saga that is the Los Angeles Lakers continues. The most recent episode has Dwight Howard taking to exception to Kobe Bryant suggesting he should play through his ailing shoulder. At age 27, Howard is more concerned with the long-term effects of the injury. For Bryant, time is of the essence.
Celtics 116 – Lakers 95 – The Celtics outscored the Lakers 68-46 in the second and third quarters to open things up against the Lakers. Paul Pierce scored 12 of his team-high 24 points. Kevin Garnett became the 16th player in NBA history to score 25,000 points. Chris Wilcox led the C's in rebounding with 9 and Kevin Garnett chipped in 16 points. Kobe Bryant led all scorers with 27 points. Dwight Howard finished with 9 points and 9 boards.
Nuggets 128 – Bulls 96 – The red-hot Denver Nuggets have won eight straight games and 13 of their last 15 at home. The Chicago Bulls were without three of their top guards. Denver outscored Chicago 65-38 in the second half. Wilson Chandler scored a game-high 24 points and Kenneth Faried added 21 points and 12 rebounds. Daequan Cook led Chicago with 19 points. Luol Deng added 8 rebounds.
The Lineup:
Snow is beginning to fall in NYC (CBS).
Chris Paul may return tonight (Mike and McGoutry).
Kevin Love wants to remain in Minnesota (Pro Basketball Talk).
Search for ex-LAPD officer moves to the mountains of Cali (CBS).
How should we view the POTUS drone policies (Hip Hop and Politics).
Grand Central Station celebrates 100 years (The Economist).
R.I.P. to Jazz legend Donald Byrd (Guardian News).
More on the Alex Collins story (The Jay Graves Report).
NYC rats have come home to roost (Huffington Post).
Falcons owner Arthur Blank served with divorce papers (Atlanta Business Chronicle).
Know the Ledge!