(Getty Images)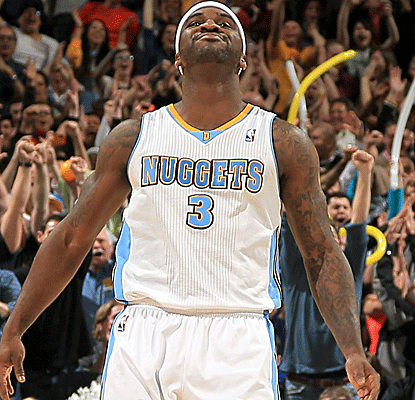 Ty Lawson's game-winner gave Nuggets fans plenty to smile about.
The Miami Heat won their season-high 13th straight game despite a poor shooting night from LeBron James. It was Dwyane Wade who came to the Heat's rescue. Wade has scored 20+ points in his last four games. The Miami Heat were able to hold on for a 98-91 victory over the visiting Memphis Grizzlies.
Ty Lawson hit a 23 footer with 0.2 left on the clock and the Denver Nuggets pulled out a thrilling 105-103 victory over the Oklahoma City Thunder. The Thunder missed 10 free throws after shooting close to 95 percent over the past five games.
Pacers 93 – Raptors 81 – Paul George led Indiana with a game-high 22 points. The Pacers outrebounded the Raptors 43-30. Rudy Gay led Toronto with 20 points.
Knicks 96 – Wizards 88 – The Wizards three-point shooting kept this a closely contested matchup. Carmelo Anthony led the Knicks with 32 points. Bradley Beal led Washington with 29 points and 11 rebounds. 
Rockets 118 – Magic 110 – The Rockets used a 32-point fourth quarter to put the game away. James Harden led Houston with 24 points, Omir Asik grabbed 12 rebounds. Tobias Harris led Orlando with 27 points.
Celtics 94 – Warriors 86 – Steph Curry (25 points) cooled down and so did the Warriors, who shot 34 percent from the field. Paul Pierce led Boston with 26 points and 4 assists.
Clippers 105 – Cavaliers 89 – Jamal Crawford led the Clippers with 24 points and Chris Paul handed out 15 assists. Dion Waiters finished with 17 points and 6 assists for Cleveland.
Heat 98 – Grizzlies 91 – Dwyane Wade led Miami with 22 points. LeBron James finished with 18 points, 8 rebounds and 10 assists. Marc Gasol paced Memphis with 24 points. The loss ended the Grizzlies 8-game winning streak.
Mavericks 98 – Nets 90 – The Nets controlled the glass 44-31, but 19 turnovers were an issue as the Mavericks won on Brooklyn's home floor. Dirk Nowitzki continues to round into form with 20 points and 8 rebounds.
Hornets 100 – Pistons 95 – Greivis Vasquez led the Hornets with 25 points and 9 assists. Greg Monroe was the go-to man for Detroit with 27 points and 10 boards. The Hornets sweep the season series 2-0.
Spurs 130 – Kings 102 – The Spurs scored 30+ points in every quarter except the second to rout the Kings who have enjoyed their recent offensive production. The Spurs put 8 players in double figures, led by Dajuan Blair's 16 points, Manu Ginobili handed out a game-high 15 assists.
Jazz 98 – Bobcats 68 – The Utah Jazz had a monstrous advantage on the glass 62-24. Enes Kanter led the Jazz with 23 points and 22 rebounds. The Bobcats were led by Bryron Mullen's 12 points and 7 rebounds.
Suns 92 – Hawks 87 – The Hawks dropped a very winnable game on the road. Doran Dragic led the Suns with 19 points and 6 assists. Atlanta was led by Al Horford with 20 points, Josh Smith added 10 rebounds.
Nuggets 105 – Thunder 103 – Wilson Chandler scored 35 points off the bench. The Nuggets hold a 2-1 lead in the season series against the Thunder. Kevin Durant had 25 points and 14 rebounds for OKC. Russell Westbrook scored a game-high 38 points.
Since it's Saturday morning…