(Nick Laham/Getty Images)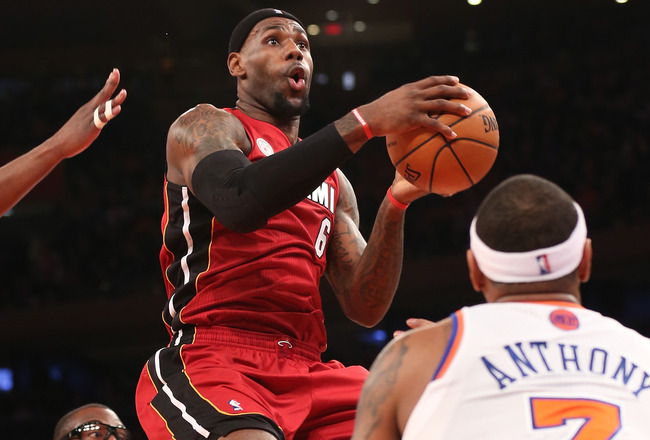 LeBron James and the Miami Heat are the owners of 14 straight wins. 
The Miami Heat rallied from a 14-point halftime deficit to stun the New York Knicks and a packed Madison Square Garden 99-93. LeBron James, Dwyane Wade and Chris Bosh combined for 65 points.
The Heat avenged two 20-point losses to the Knicks this season and now lead their Eastern Conference foes by 7.5 games.
Heat 99 – Knicks 93 – LeBron James led the Heat with 29 points and 11 rebounds. Dwyane Wade added 20 points and 8 assists. Carmelo Anthony led the Knicks with 32 points. Miami outscored New York 54-34 in the second half.
Thunder 108 – Clippers 104 – The Thunder led by as many as 19 in the third quarter, but Russell Westbrook scored 10 of his 29 points in the game's final five minutes. Kevin Durant scored a game-high 35 points and grabbed 9 rebounds. Chris Paul led the Clippers with 26 points and 8 assists.
Grizzlies 108 – Magic 82 – Memphis pushed their record to 18-0 when they score 100+ points. They were without forward Zach Randolph — who is nursing a sore ankle. Tashaun Prince led the Grizzlies with 14 points and Marc Gasol handed out a career-high 11 assists. Andrew Nicholson led the Magic with 12 points.
Wizards 90 – 76ers 87 – The Sixers failed to win back to back games after blowing a late lead. Martell Webster scored 16 points and Emeka Okafor grabbed 16 rebounds. Dorrell Wright led Philly with 15 points.
Kings 119 – Bobcats 83 – The Kings outscored the Bobcats 43-19 in the 3rd quarter to blow the game open. John Salmons led Sacramento with 22 points. Michael Kidd-Gilchrist led Charlotte with 6 assists.
Rockets 136 – Mavericks 103 – Houston outscored Dallas 72-42 in the second half as the Rockets snapped a 9-game skid against their in-state foes. Chandler Parsons scored a career-high 32 points. O.J. Mayo led Dallas with 18 points.
Spurs 114 – Pistons 75 – The Spurs roll on after learning they will be without guard Tony Parker for the next month (ankle). San Antonio held Detroit to 35 points in the second half. Manu Ginobili led the Spurs with 17 points. Tim Duncan grabbed 11 rebounds and handed out 6 assists. Greg Monroe led the Pistons with 16 points.
Pacers 97 – Bulls 92 – The Pacers have won 7 of their last 8 games and have taken a four-game lead over the Bulls in the Central Division. David West scored a game-high 31 points. Paul George grabbed 10 rebounds and handed out 6 assists. Marco Belinelli led Chicago with 20 points.
Lakers 99 – Hawks 98 – Kobe Bryant scored on a bank shot with 9 seconds remaining to push the Lakers to .500 (30-30). Bryant scored 34 points and Dwight Howard grabbed 15 rebounds. Al Horford led the Hawks with 24 points.
The Lineup:
Eric Bledsoe is an important part of the Clippers off-season moves (Mike and McGoutry).
Here is the ultimate Field of 64 (CBS Sports).
This weekend's top NCAA performers (Sports Reference).
The Illuminati and the Bible (YouTube).
Deadly sinkhole in Fla. should be uncovered today (CBS).
Here is the word on The "Black Mamba" (The Jay Graves Report).
Here are some at-your-desk stretches (Men's Health).
Jobs on the line in Toronto (SI.com).
LeBron mum on Magic Johnson's $1 million offer (Sporting News).
Terrell Owens is in the news again (In Flex We Trust).
A$AP Rocky!