(Getty Images)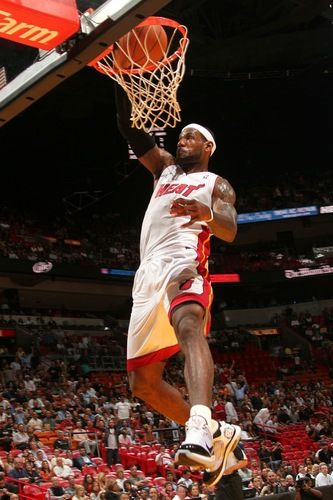 Imagine seeing this in a Slam Dunk Contest?
(Author's Note: Sorry for the delay. The power of the Little Hater is stronger than I initially realized.)
This piece isn't some piss-poor attempt at trolling. My name isn't Skip Bayless. I'm not going to try and heckle anyone into doing anything just so I have something to talk about on my show. Embarrassing myself to the point where people forget once upon a time, I was a writer with potential. This is about my desire to see an artist push himself — painting on an exclusive canvas where many greats before him have characterized their gifts.
I was hyped up as a young kid for watching anything and everything tangentially related to the NBA. I loved Slam Dunk Contest, and I still do. I remember being dazzled by the grace of Michael Jordan, the stunning power of Dominique Wilkins, and the creativity of anyone who decided they were going to take part.
Somewhere along the line, things changed. Maybe it was when this happened:
Or perhaps it was this:
Whatever the reason, the Dunk Contest ceased to be as exciting as it should have been. To be sure, there were a few twitches here and there, but by and large it's dying.
It needs to be brought back to life.
This can't continue. As much as I respect Terrence Ross and Jeremy Evans, they are closer to Terrence Stansbury and Kenny Walker than to the kings of the Dunk Contest. Hell, they're not even Jason Richardson.
So how do we fix it? Take what Magic Johnson offered  and multiply it. Make it innovative for the modern age. Make a matching fund from a Kickstarter drive. If we can do it, it should solve the issue of not being able to compel star participation. That's only one problem. Assuming my plan works, we can increase the pool from the current $1 million to something closer to $5 million. Our next step is to convince LeBron James to do something he has given no interest in participating in.
The best way this works is not to appeal to him as the curator of his own brand. It might offend him, and to be quite honest, it's not the best way to appeal to him. You come up against the serious reality of opening wounds from The Decision.
Try to convince him to do it as an artist. Think about how often people discuss Lebron's genuine ability to thrill and impress. Now, in the midst of the most brilliant statistical season I can remember, there are still moments — at least a handful a game where he thrills us. The power he has to rattle the rim, the speed to close out and alter shots. Those rare occasions when he makes a turnover and his passing skills — which are Magic or Rubio-esque, are still pretty damned snazzy. There is a part of him, once found in Jordan, 'Nique, Wilt, and Magic leaves you not just impressed by his skill, but dazzled.
I believe somewhat passionately, if you came up to LeBron in a quiet moment and begged him to do it, there  would be a pretty good chance he would do it if you went with this pitch:
"LeBron, you're an artist. With the basketball in your hands and in the open court. You're Wagner, Matisse, and Picasso. There's nothing any of the fans of the NBA can't be convinced you are capable of doing. The question is: Do you want to dazzle us forever, to ruin the Slam Dunk Contest for all who follow you or do you want to let something which was once the crown jewel of the league's showcase weekend continue to wither?"
(Photo from Nathaniel S. Butler\NBAE via Getty Images)
What will convince LeBron James to enter the Slam Dunk Contest?
If he agrees, you move forward. With all due respect to this year's field, I don't think it's fair to LeBron or to this year's field, to place the best player in the world in a group full of young guys trying to prove themselves in the league. You need challengers to LeBron who are equal to him in creativity and at least close to him in star power.
Where to start? We start with one of the most creative dunkers in the league. The one man who has caused more alley-oops on NBA 2K13 than anyone save LeBron. He should have won the Dunk Contest in the year he was in it, and if nothing else, we're going to see something ridiculous at some point. The first entrant to next year's dunk contest: Andre Tyler Iguodala.
(Photo Credit: NBAE\Getty Images)
One of the most tremendous dunks I have ever seen.
But LeBron vs Andre Iguodala isn't enough. You and I know it. What this needs is someone who has already won the dunk contest, someone who is part of the NBA's most exciting air show. For goodness sakes, the man JUMPED OVER A CAR! Blake Griffin will be and entrant too. Between Griffin and James, there's a real chance the rim might come off.
(Bruce Yeung/NBAE/Getty Images)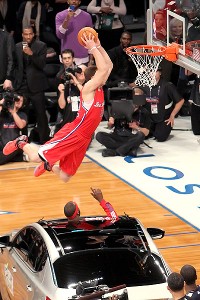 He has jumped OVER A CAR. You don't want to see him in a challenge like this?
With James and Blake we have the power done. But we need something different. With all due respect to Spud Webb, Nate Robinson, and the others, our next contestant gives us the possibility for the greatest little man dunk EVER. His teammate has already owned All-Star Weekend, winning the HORSE competition twice as well as the All-Star MVP. I imagine he would like to have his turn. Let's  have him try it. Russell Westbrook, come on down.
(Photo Courtesy of Layne Murdoch/NBAE/Getty Images)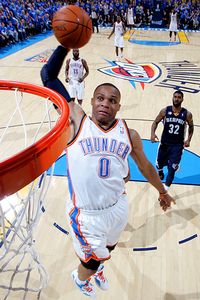 Possibility the greatest little-man dunker EVER .
After LeBron, Blake, Iggy, and Russell Westbrook, we need creativity. We need to see a dunk our eyes have never seen before. More than that, we need the possibility of many people in the first few rows of the crowd making the Bitter Beer Face. We need someone who is eminently capable of crushing our expectations. We need Flight White.
So there we go. There's our list. Can LeBron win the dunk contest against competition as good as this? Yes he can. Is it a shut the thing down lock like it would be if he competed in next year's dunk contest? No. To be honest, it's part of the fun. Seeing LeBron have to delve deep into his bag of tricks to win is part of the fun. And it's why he should do it. Because it's time to get the fun back in a weekend which used to be all about it.
In the comments, tell me who you think would win and why.