(Frank Franklin II/AP)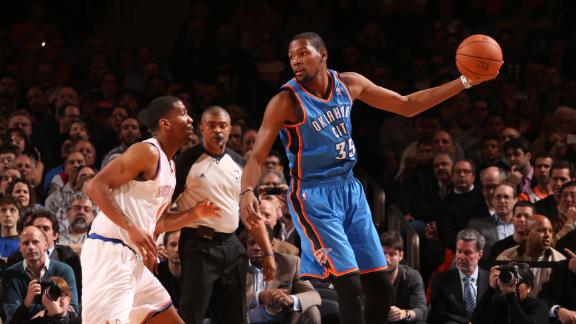 Kevin Durant's 34 points were just enough to keep the game out of the Knicks reach.
The Knicks were without Carmelo Anthony (knee), but J.R. Smith did not allow his team to go quietly into the night. Smith finished with a game-high 36 points, but it wasn't enough as Kevin Durant and Russell Westbrook combined for 55 points as OKC defeated New York in a 95-94 thriller.
Thunder 95 – Knicks 94 – Kevin Durant scored 34 points, grabbed 8 rebounds and handed out 6 dimes. Russell Westbrook added 21 points and 6 assists as the Thunder won their third straight. Tyson Chandler pulled down a game-high 10 rebounds.
Nuggets 107 – Clippers 92 – After going into the half tied at 59, the Nuggets outscored the Clippers 58-43 in the second half. Ty Lawson led the Nuggets with 21 points and 10 assists. Matt Barnes led the Clippers with 19 points and Chris Paul had 10 assists.
The Lineup:
Betty Wright and the Roots (Box).
Why was Black gay mayoral candidate murdered (Mr. Davey D).
Triple homicide in Detroit (Detroit Free Press).
Can't get enough of this (IFWT).
I wish Biggie could kick in her door (IFWT).
NY Knicks all-time team (Mike and McGoutry).
Nerlens Noel raps about his injury (Dime Magazine).
Why grown men need to hang up the jerseys (The Jay Graves Report).
Kris Humphries taken out of Nets rotation (SI.com).
NHL moving closer to realignment (NY Times).
Happy Birthday Bro!!!